Soil Health Test Sampling Instructions
When submitting soil samples to the PEI Analytical Laboratories (PEIAL) for the Soil Health Analysis package, it is recommended that you follow these soil sampling guidelines to ensure that your sample is representative of your field conditions.
Materials Required:
Small spade or shovel 
5 gallon pail
Soil Health Sample bag from PEIAL (brown) (holds approx. 4 cups)
Soil Nutrient sample bag from PEIAL (white) (holds approx. 2 cups)
Cooler (if applicable)
Follow these steps:
STEP 1: Clear a small area for sampling within the field by removing any surface plant or crop residues. Be careful to not remove a large amount of soil from the surface while removing plant debris as this may skew results.
STEP 2: Dig a small hole approximately 9-10" deep, while maintain a smooth "wall" along one side of the hole so that it is vertically level.
STEP 3: From the smoothed out area, remove a small cross section of soil approximately 2" wide and 7-8" deep (or to desired depth of crop's living roots). Maintain even thickness throughout the cross section as you push spade into soil.
STEP 4: Place the soil sample into a pail, and repeat steps 1 to 3 until enough samples have been obtained for the sampling area. 
STEP 5: Mix the soil together in the pail thoroughly with hands to make one composite sample, and place approximately 4 cups of soil in a labeled soil health sample bag. Include sample ID, date and client name on soil health sample bag label. Put another subsample of soil into the soil nutrient analysis bag, and label with the same label as the soil health sample bag.  Therefore, each sample submitted for analysis is split into one large bag and one small bag. Place soil samples in a cool, shaded area (avoid direct sunlight), and deliver to lab as soon as possible. If samples cannot be delivered to the lab within 24 hours, refrigerate or place in a cool area and submit to the PEIAL as soon as possible. Do not freeze sample or allow sample to dry out.
Photos depicting each step are found below: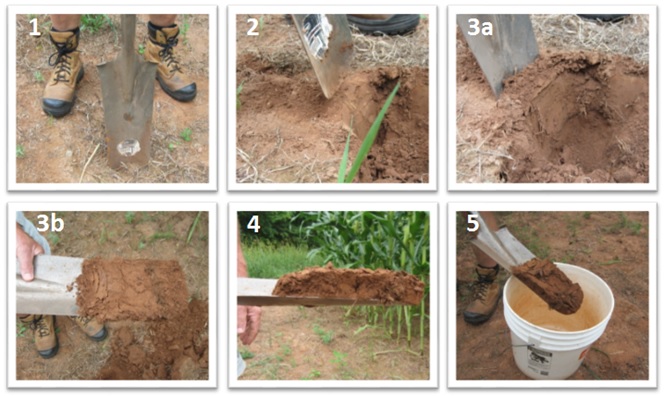 Areas that are not representative of the field should not be included for sampling unless they are to be assessed as a separate sample. This includes areas that are uncharacteristically wet, boggy, low/high spots, particularly rocky areas, or sections that have been managed differently than the rest of the field.
Soil sampling techniques have been adapted for use on PEI from the Cornell Soil Health Manual sampling instructions (3rd ed.).
For more information contact:
PEI Analytical Lab
(902) 620-3300
or
Kyra Stiles
kstiles@gov.pe.ca