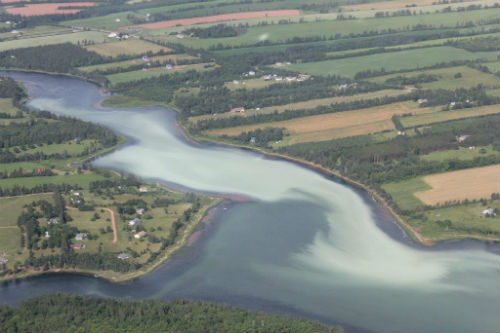 Anoxic events are a common occurrence in Island estuaries during the summer months.  The symptoms of an anoxic event include:
milky white or green discolouration of the water, 
H2S or 'rotten turnip' odour, and                        
low (near zero) dissolved oxygen readings.
A list of sites that recorded anoxic events during 2016 is provided below.  A map of these sites is also available.
Historial information, from 2006 to 2016, is available. A map that highlights the intensity of anoxic events across PEI from 2012 to 2016 is also provided.
                                                     
Please note that information provided may not capture every anoxic estuary in PEI for a particular year. Some events may not have not been reported to, or documented by, the Department of Communities, Land and Environment.
2016* Anoxic Events
Baltic River/Hunter's Creek (Darnley Basin)
Barbara Weit River 
Boughton River 
Covehead Bay
French River
Hope River
Hunter River (River Clyde) 
Indian River 
Midgell River
Mill/Hills River, including Long Creek
Montrose/Kildare River (including the Huntley branch)
Morell River
Paynter's Pond**
Southwest River, including Durant's Creek and Tuplin Creek
St. Peter's Bay
Trout River (Coleman)
Trout (Stanley) River, including Founds River and Granville Creek 
Waite's Creek
Wheatley River
Winter River
* Last updated March 15, 2017
** Freshwater Pond
Who can I contact for more information?
Cindy Crane (Surface Water Biologist)
4th Floor, Jones Building
11 Kent Street
Charlottetown, PEI C1A 7N8
Telephone: (902) 368-5179
Fax: (902) 368-5830
Email:  cscrane@gov.pe.ca