About the Learning Partners Advisory Council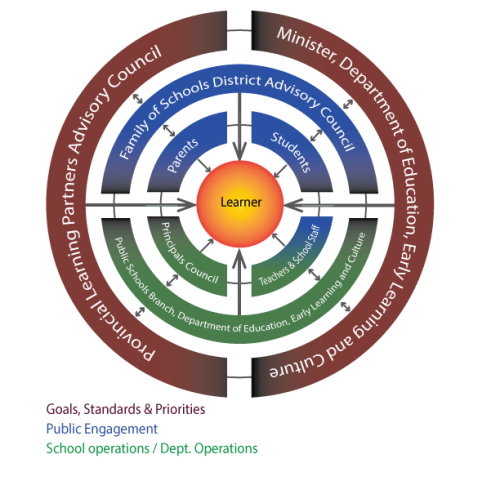 The Learning Partners Advisory Council is charged with taking a broad look at learning throughout the life span from birth to the senior years.
Mandate
The mandate of the Learning Partners Advisory Council is to provide insight and advice on how best to advance learning excellence and support learners, from the early years through public education, post-secondary and adult learning, in support of the province's long-term prosperity and well-being.
Terms of Reference
On November 5, 2015, the provincial government announced the Prince Edward Island Learning Partnership – setting out a new vision and model for learning in Prince Edward Island. All Islanders and all learning partners will be engaged in a shared effort to support every learner from birth onwards, to excel, and to build a culture of learning in our province. Our success in this endeavour is essential to advance the prosperity of our province and the quality of life and well-being of every Islander.
To this end, the new model features strong mechanisms for collaboration both locally and provincially, linking partners within the education system and in the community at all levels. This included forming eight Family of Schools District Advisory Councils and a provincial Principals' Council.
At an overarching level, the Learning Partners Advisory Council was established to bring together learning champions from educational organizations, the community, and government to provide comprehensive and multifaceted advice on priorities, opportunities, and goals for PEI's learning systems to help shape public policy on education and learning.
Membership
The Learning Partners Advisory Council is comprised of 25 members:
two co-chairs;
twenty citizens who are representative of a broad cross-section of Islanders, who are passionate about learning, and who have ideas and insights on how to advance learning excellence across PEI; and
as ex officio members, the deputy ministers of the Departments of Education, Early Learning and Culture, Workforce and Advanced Learning, and Family and Human Services, to promote a cross-sectoral approach within government to leading and delivering learner supports and services.
Roles and Responsibilities
In support of this mandate, the members will advise on:
priorities, strategic directions and targets for learning and learners;
areas and opportunities for innovation in learning;
opportunities to integrate government social and employment services in support of learners and their wellbeing;
how to foster a spirit of innovation and entrepreneurship among Island youth;
pathways to employment, leadership, and citizenship for all Islanders; and
a vision and plan to build a culture of learning in PEI, positioning education and learning as foundation of our prosperity.
Processes
The council will determine its own priorities and develop its own work plan and time frames to fulfil these priorities. It is expected that its work will encompass the following components:
Meetings: The Council will meet at least three times annually. Council meetings will not be open to the general public. At its discretion, the Council may invite individuals to observe or participate.
Meeting Documents: Meeting summaries will be thematic and will not identify the views of individual members. All agendas, briefing materials, meeting summaries and reports will be made public on a dedicated website.
Meeting Environment: To encourage openness and the expression of individual views, the Council will follow the Chatham House Rule: "... participants are free to use the information received, but neither the identity nor the affiliation of the speaker(s), nor that of any other participant, may be revealed."[1]
Working Groups: The Council may establish temporary working groups partly comprised of Council members to study / investigate particular issues. Working groups may seek additional members with relevant expertise, and may engage with the public through any of the pathways identified below (Public Engagement).
Public Engagement: The Council may use multiple approaches to actively engage a wide range of Islanders and solicit their views on issues in its work plan. These may include, but are not limited to:
release of information and discussion materials on specific issues, for public comment and feedback;
surveys;
face to face consultations on specific issues through public meetings;
formal linkages and information sharing with District Advisory Councils and the Principals' Council;
standing mechanisms for the public to provide input on their concerns and priorities (e.g. social media, comments form, email contact, toll-free number).
Research: The Council may investigate and examine matters associated with the mandate set out above, including approaches and best practices in other jurisdictions.
Decision-Making: Decisions on the Council's findings and recommendations shall be by consensus.
Analysis and Recommendations: The Council may submit its findings and recommendations at its regular meetings, or in written form between meetings as it may determine.
Communications: The co-chairs shall act as the spokespersons for the Council, and may designate other Council members to speak on behalf of the Council on specific matters.
Terms of Office
Initial appointments are for a combination of two and three year terms of office to ensure continuity when renewing the membership. Members may be reappointed for one additional three-year term.
Resources and Administration
The primary resource to the council is the Clerk Assistant and Secretary to the Cabinet Committee on Priorities, supported as necessary by other staff of Executive Council Office and the Department of Education, Early Learning and Culture.
Members shall serve on the council on a volunteer basis, but shall be reimbursed for any expenses incurred in the conduct of their responsibilities.
Meetings
The Council will meet at least three times per year in communities across the province. Find a summary of each meeting online.
Have your say!
Islanders are encouraged to provide input online in advance of meeting dates. The council will discuss public feedback at each meeting.
Contact Us
Mailing address:
Learning Partners Advisory Council
P.O. Box 2000
Charlottetown, PE  C1A 7N8
Email: lpac@gov.pe.ca
---
[1] The Royal Institute of International Affairs (www.chathamhouse.org/about/chatham-house-rule)