Visit workpei.ca
for a dynamic dashboard of key economic indicators for Prince Edward Island
Prosperity
Gross domestic product
GDP is a strong long-term measure of prosperity. Since 1960, PEI has gone from less than 50% to almost 80% of the Canadian national average GDP. To make it to 80% or greater, PEI has to perform above the national average.
The graph pictured demonstrate that PEI has been doing better than its Maritime neighbours in real GDP growth.
Exports and Manufacturing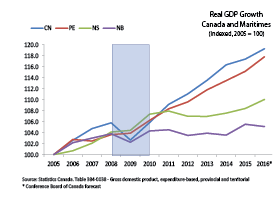 Exports are a big part of the PEI economic growth story. The province led all Canadian provinces with an increase in exports in 2014 (22% growth) and again in 2015 (15% growth). Frozen food and seafood products are top exports at 35% of provincial exports.
Confidence
PEI business leaders continue to report high business confidence with the CFIB's Business Barometer reaching 71.4 (as of November 2016).
Consumer confidence has improved in PEI during the first quarter of 2017 (up 2.3 points).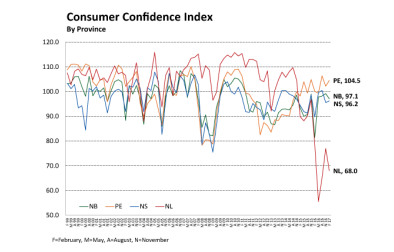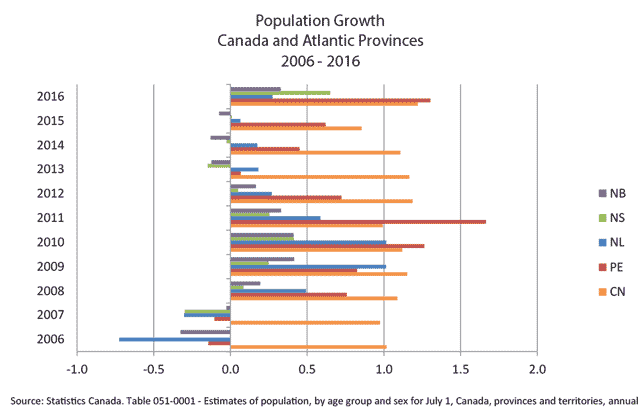 Rejuvenation
Prince Edward Island led immigration per capita among provinces; tied with Alberta. The population objective for PEI is 160,000 by the end of 2022. As of January 1, 2017, the population reached 149.4 thousand, up 1.5% over 2016.
Growth
The economy is growing in all regions of the province, rural and urban, and helping to drive income growth for Island workers. In 2015, labour productivity in PEI was $29.6 per hour which represents a 5.3% increase between 2014 and 2015, compared with a decrease of 0.4% at the national level.
Sustainability
PEI benefits from an economy that is diverse. Along with a mix of traditional resources - that have undergone significant modernization - knowledge-based and high-tech companies are becoming more and more important to the province's success.
Diversification of PEI exports allows for better price competitiveness and protects against trade disruptions in any part of the world. In the long term, however, the performance of export sectors will depend on the ability of individual businesses to be innovative, productive and growth-oriented.
For sustainable growth, PEI must continue to improve its trade balance. The challenge for local business is to increase exports and do business with one another. The challenge for all Islanders is to seek out every opportunity to support local by purchasing goods and services here at home.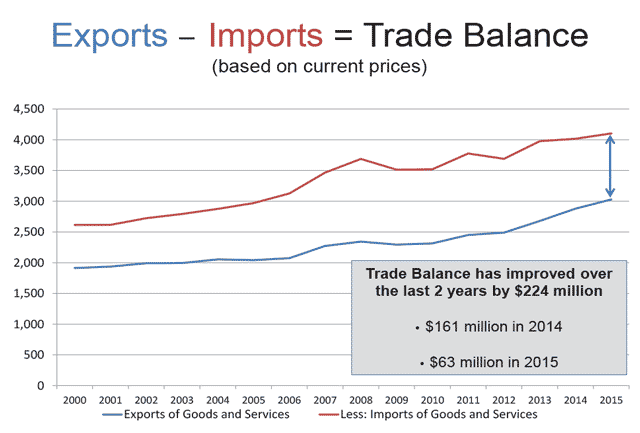 For more economic indicator dashboards for Prince Edward Island,
visit workpei.ca