INSTRUCTIONS: Click on map for a larger image.
Project Overview
Xplornet will upgrade and expand the existing broadband network to reach underserved communities in Prince Edward Island. Xplornet will provide fixed wireless coverage to 17,000 civic addresses across Prince Edward Island and Fibre-to-the-premise coverage to over 3,000 civic addresses. Xplornet will build out a rural broadband network that ill provide 50/10 Mbps Internet speeds to rural homes.
Fixed Wireless
Xplornet's project includes the construction of 8 new macro towers in addition to upgrades to its existing fixed wireless tower sites. A construction of 7 out of 8 new towers are complete and now offering service in the following areas:
Borden-Carleton
Cornwall
Georgetown
Urbainville
Summerside
Ellersllie
Irishtown
Tower Locations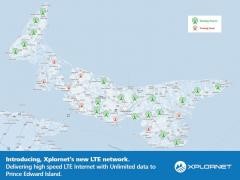 Island Coverage
Coverage by County
Prince County

Queens County

Kings County
Fibre-to-the-premise
The preliminary design for the fibre network is complete and construction work began in July 2021. A detailed Fibre-to-the-premise roll out schedule is expected to be released in Fall 2021.