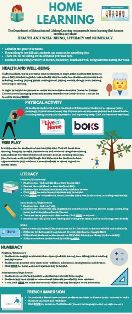 In light of the school closures, the Department of Education and Lifelong Learning is providing ongoing learning opportunities for students while at home. We recommend home learning that focuses on three key areas; health and well-being, literacy and numeracy.
Activities that support ongoing learning can be found below.
For those who do not have Internet access, we are working to provide offline access to activities. 
We appreciate that this is a challenging time for families and the learning opportunities are provided as time permits in your household.
English
Kindergarten Resources
Primary Resources (Grades 1-3)
Elementary Resources (Grades 4-6)
Intermediate Resources (Grades 7-9)
High School Resources (Grades 10-12)
French Immersion and Core French
Core French
French Immersion