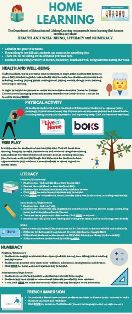 For the duration of school closures, students and families will have access to online and offline home learning materials. We recommend home learning focus on three key areas; health and well-being, literacy and numeracy.
Teachers will connect directly with students and families to provide home learning materials. Additional activities that support ongoing learning can be found below.
Grade 12 students who were on track to graduate before the school closures will graduate, and students will be able to progress to the next grade level. To find out more, visit Additional Information for High School Students.
Home learning materials should be used in a way that works best for each family. Any learning gap as a result of COVID-19 will be addressed when students return to school. Students will not be disadvantaged because of COVID-19. Additional information is available for EAL/FAL Students and Parents.
School counsellors and psychologists are available for any student needing support. Students and their families feeling vulnerable and need support during school closures are asked to contact 902-369-5155 or supportforfamilies@edu.pe.ca 
English
Kindergarten Resources
Primary Resources (Grades 1-3)
Elementary Resources (Grades 4-6)
Intermediate Resources (Grades 7-9)
High School Resources (Grades 10-12)
French Immersion and Core French
Core French
French Immersion
Additional Activities