Safe Internet Use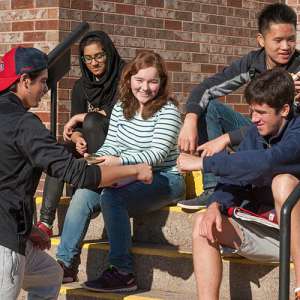 Children and teens spend a great deal of time online.
As a parent or caregiver, you are the best person to help your child stay safe online. Talk to your children about what they should and should not do online.  
The internet is an amazing resource but it is always changing, so staying current with your child's use of technology can be a challenge.
Tips for parents
Find safe apps and sites that are appropriate for your child to use. Bookmark safe sites for easy access (kids.youtube.com for example).
As a family, create an online safety agreement that identifies using safe apps, sites, activities that are safe, and to let a parent know if anything appears is off-limits. Sign it and post it for everyone to see.
Limit technology time. You can use an app called Kidslox.com to block access on mobile phones and tablets during down time. As a parent, you need to model appropriate use as well.
Keep lines of communication open so you know what apps and sites your child is using. Pay attention to surfing habits. Let your child know that he or she can come to you in case of trouble.
If you (or your child) ever encounter suspicious or dangerous situations online, report it to your internet service provider and local police.
Tips to share with your child
Never post or share something that could affect your reputation or someone else's. The internet never forgets!
The Golden Rule applies online too - always treat others in a way that you would expect to be treated.
Never post or share a picture online that you would not post on a bulletin board at school.
If someone shares a photo of you or posts a comment that makes you unhappy, tell a parent or adult. Together, you can ask someone to remove a photo or comment that is upsetting you.
Bullying
Encourage your child to talk about school, social events, other kids in class, the walk or ride to and from school so you can identify any issues he or she may be having.

Watch for symptoms that your child may be a bullying victim. Be aware of signs such as withdrawal, a drop in grades, physical signs, or needing extra money or supplies. It's also important to recognize behaviour by your child that may be considered bullying.

Contact your school principal immediately if you think your child is being bullied. Work with other parents to ensure that the children in your community or neighbourhood are supervised closely on their way to and from school. Talk to the teacher or school's guidance counsellor for some professional advice.
School Bus Safety
It's important for parents, caregivers and students to understand school bus safety and the steps to follow to stay safe when waiting for the school bus or when getting on or off the school bus.
Be at your bus stop before the bus comes.
Wait in a safe place well back from the edge of the road - don't play in ditches or on snow banks.
Make sure you and the bus driver can see each other. 
Look all ways and wait for the driver to signal before you cross in front of a bus.
Walk at least 10 big steps from the front of the bus. If you can touch the bus, you're too close. 
Enter or exit the bus in single file. Never push or shove.
Walk - never run - across the road.
NEVER stop to pick up anything that you may have dropped. Ask an adult or the bus driver to help.