Need to make a referral to or contact a Student Well-being Team?
Select a Student Well-being Team to learn more about each team:
About the Student Well-being Program
Vision: Supporting Island children and their families to be the best they can be.
Mission: To empower strength, resilience and well-being in Island school-aged children and their families.

Student well-being teams work in schools advising, consulting and providing direct service to children and youth who are struggling with mental, social and physical health issues.
When professionals are co-located in schools, more children can be reached and supports can be provided earlier. Barriers such as transportation to services can be eliminated and there is more opportunity to support wellness in schools.
Locating child and youth services in schools allows issues to be addressed earlier, and prevents them from escalating and impacting a student's ability to succeed in school and throughout life.
Which schools have well-being teams?
All public schools in PEI now have access to Student Well-being Teams. The final three teams were established in fall 2019.
Who is on the teams?
Each team includes trained professionals who have experience working with children and youth, including:
Registered nurses
Social workers
Outreach workers
Occupational therapists
Counselling consultants
What services do they provide?
The teams help students build strength in the areas of mental, social and physical health. They support children and youth to deal with issues like anxiety, sleep, exercise, food, screen time, family and relationships.
Teams offer evidence-based programs in key areas, such as self-regulation, anxiety, social skills and parental support.
Teams also work closely with students and the school community to create healthy school cultures.
What can students expect?
Teams are student-centred. When a student meets with a team member, he or she can expect to be listened to and understood.
Team members help students understand what they are going through and provide them with tools to deal with life's challenges.
What are the roles of team members?
The Student Well-being Social Worker Team Lead acts as the team lead, providing clinical supervision to cases connected to the team and delivers clinical  services to students and their families.
Larger families of schools like Bluefield, Charlottetown Rural, Colonel Gray, and Three Oaks have two Student Well-being Social Workers. One acts as the team lead and the other Social Worker is focused solely on delivering clinical services to students and families.
Student Well-being Outreach Workers help students at school and at home to address behavioural problems, addictions, relationship issues and other challenges.
Student Well-being Registered Nurses support and counsel students in need, focusing on prevention and promotion and reducing the stigma that surrounds mental health. They also act as a point of contact between home, school and other health providers.
A Counselling Consultant provides counselling support and serves as the liaison between school-based student services and the student well-being team. 
Student Well-being, Occupational Therapists support children with high physical needs in school and at home. SWOTs also build capacity among educators to understand children's motor, sensory and self-regulation development, and how this can be supported to improve the child's learning. 
Who is eligible for services?
Services are available to school-aged children and their families within the school family, particularly those who require additional supports and services to reach their full potential.
How do students access the service?
The teams offer drop-in times at each school. A student can see a team member during these times or approach a teacher, school counsellor or staff member to arrange a referral for them. Service providers and families may also request service by contacting their school counsellor or principal. 
Teams are based out of one school and they travel out to all schools in the family: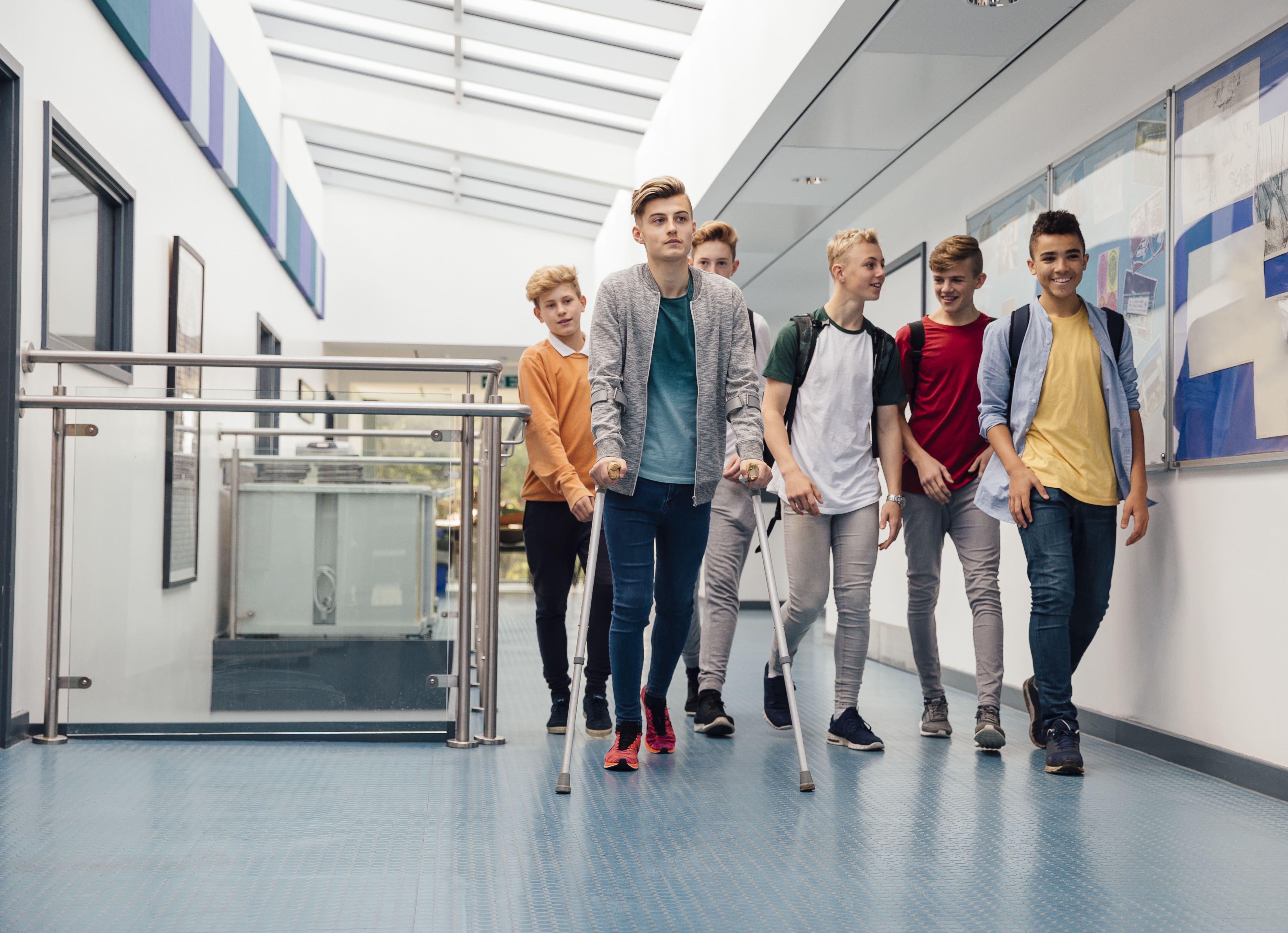 Bluefield Family of Schools 
Bluefield High School
902-675-7480 ext 230
Charlottetown Rural Family of Schools
Stonepark Intermediate School
902-368-6085 ext 242
Colonel Gray Family of Schools
St. Jean Elementary School
902-368-6985 ext 3
Kensington-Kinkora Families of Schools
Kensington Intermediate/Senior High School
902-836-8901 
Montague Family of Schools 
Montague Regional High School 
902-838-0835, ext 241
Morell and Souris Families of Schools 
Morell Regional High School
902-961-7345
Three Oaks Family of Schools
Summerside Intermediate School
902-888-8470 ext 234
Westisle Family of Schools 
Hernewood Intermediate School
902-859-0390
Teams serve English and French schools in their area.
Where are services delivered?
Each school has private and comfortable space for team members to meet with children and families as well as school staff. They also meet with a student or family at space in the community if that is more comfortable for them.
Are the services only available during the school year?
The teams work year-round, supporting students and families during the school year and the summer months.
What other services are available for students and families?
Team members work closely with teachers and the school's student services team which may include: 
School Psychologists provide psycho-educational assessments to identify the root of a children's learning or health concerns, and provide intervention and support. The student well-being teams can help to address concerns while a child is waiting for this specialized assessment.
School Counsellors, based in schools, provide individual and group counselling. They support social and emotional learning curriculum, provide career counselling and assist with behaviour planning.
Speech Language Pathologists work with children who have communication disorders that can impact their participation in the classroom and their learning.
Multi-agency Service Teams (MAST) teams bring together a variety of professionals together to create a case plan for a child or youth. Student well-being teams work closely with MAST to meet the needs of children, youth and their families. 
Other services are available in the community such as public health, community mental health, addictions, primary care and child and family services. There are also a number of non-government support agencies including family resource centres and boys and girls clubs that may be helpful. A team member can make a referral to a community-based service if that is a better option. The services in schools will complement, not replace, services already available in the community.
Student well-being teams are funded and staffed by several government departments and agencies that serve students and families including:
Education and Lifelong Learning
Health and Wellness
Justice and Public Safety
Social Development and Housing
Public Schools Branch, CSLF
Health PEI