Guidelines for using provincial wordmark and symbols
The Prince Edward Island wordmark is a registered trademark of the Government of Prince Edward Island and may not be copied, reproduced, altered or distributed for use or otherwise used in whole or in part in any manner without written permission.
Individuals or organizations may be granted permission to use the provincial government wordmark under the following circumstances:
use is for a municipal, provincial or federal government;
use is to recognize the Province as providing endorsement for an event, organization, product or service through financial or other means of support;
use for an organization or person representing the province on a national or international basis through a sanctioned process of selection;
the request is on behalf of a recognized official provincial organization or association representing an industry sector or a particular interest group;
the organization has entered into a partnership with the Province to produce materials with the word mark for distribution; and/or
the organization or person has been contracted by the Province to produce promotional, collateral, signage and/or other products.
Request use of the wordmark
The provincial wordmark cannot be used for commercial purposes without written approval. Complete a Request Use of Wordmark or Copyrighted Material form.
Approval will be based on the information provided in your request. Requests for use of the wordmark may be rejected if use implies endorsement or involvement by the Government of Prince Edward Island for an independent project or endeavour.
Elements of the Prince Edward Island wordmark
The government wordmark design is a combination of three elements: the words "Prince Edward Island" and "Canada"; an island with trees; and an underscored wave. The elements of the Prince Edward Island wordmark have specific relationships to each other and should not be altered or modified in any way. The wordmark must never be stretched, squeezed, tilted or skewed.
The wordmark must not be stretched or squeezed, tilted or skewed.
Corporate Colours
The colour specifications apply to all versions of the word mark. The word mark may be either black, green or in two colours: green for the words Prince Edward Island and Canada; and blue, for the wave.
Primary Palette
For an accurate reproduction of colours, refer to Pantone charts.

*PMS stands for Pantone Matching System. Pantone is a registered trademark of Pantone Inc.
† Process Colours (CMYK) Cyan, Magenta, Yellow, Black
Secondary Palette
Secondary colours must be used in conjunction with the official colours, not in place of them.

Reverse Configuration
Reproduction in colour on a white background is preferred whenever possible. However, other configurations may be required for some publications. When using the wordmark on a strong coloured or dark background use the reverse wordmark configuration.


Workmark Files
Only wordmark images pictured below are authorized for use.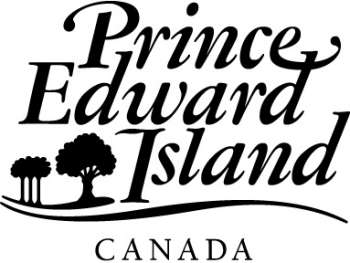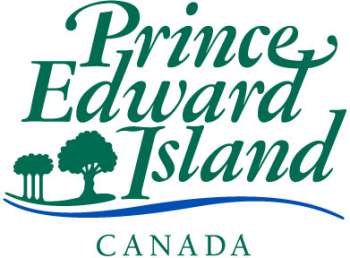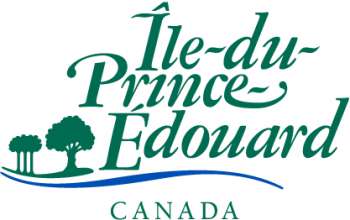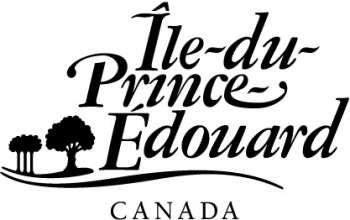 ---
Other official emblems and symbols
This section provides specific information about the Lieutenant Governor's Emblem, Coat of Arms and the PEI provincial flag.

Lieutenant Governor's Emblem
Use of this symbol is governed by the Office of the Lieutenant Governor
Coat of Arms
Unauthorized use of the provincial Coat of Arms is strictly prohibited. Permission for its use must be obtained from the Clerk of the Executive Council as per the Coat of Arms Act.
Provincial Flag
The PEI provincial flag is a symbol of honour and should be treated with respect. There is no law about flying or displaying the provincial flag. Rather, PEI has provincial flag guidelines based on flag etiquette of the Government of Canada.
Who can I contact for more information?
For more information about ways in which the Prince Edward Island wordmark can be combined with typographic applications or for sizing specifications and for specific information about official symbols, bilateral applications, signs, stationery items and vehicle identification, contact:
Communications and Public Engagement
Telephone: (902) 368-5080
Email: creativeservices@gov.pe.ca