Prince Edward Island Holiday Recipes
A selection of favourite holiday recipes that home cooks and foodies will be eager to share with friends and family. You can also browse and savour the curated Prince Edward Island recipe collection.
Browse PEI recipe collections
Discover delicious recipes of Prince Edward Island at the sites below.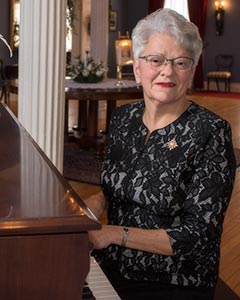 Her Honour Antoinette Perry, Lieutenant Governor of Prince Edward Island, loves to bake and this recipe is from her mother's collection of recipes. Her mother acquired it from a coworker in about 1978 and it quickly became a traditional favourite. Making this cake brings back fond memories of time spent in the kitchen with her mother. 
Her Honour's Pineapple Fruit Cake
1 8 oz pkg glazed red and green cherries (halved)
1 lb bleached raisins or 2 ¾ cup mixture - raisins, cut mixed fruit, citron peel
¼ c walnuts (or pecans)
¾ c coconut
Mix fruit, nuts, coconut together and dust with ¼ c flour. Set aside.
2 ¾  c flour
3 tsp baking powder
½ tsp salt
Mix dry ingredients. Set aside.
1 c PEI butter
1 ½ c white sugar
3 PEI eggs
1 tsp each - vanilla and almond extract
Cream butter, sugar, eggs and flavouring. Add dry ingredients alternating with 1 cup crushed pineapple, with juice. Fold fruit mixture into batter.
Line a tube pan with a double layer of parchment paper and grease (or spray with Pam).  Bake at 300 degrees for 2 hours.  Place a pan of water in the oven on bottom rack for moisture.
Enjoy freshly harvested mussels
Did you know that cultured mussels are harvested in all seasons and are available all year round? Island mussel farmers lead the way producing approximately 80% of Canadian mussel production.
A new twist on the traditional steamed-in-beer mussel recipe.
Love our lobster
Officially, there are two lobster seasons on the Island. Albeit, someone may think there are three given the amount of lobster eaten over the holidays.
This is Chef Michael Smith's favourite chowder recipe. The great thing about a chowder is that you can make it a day or two in advance and reheat to serve, allowing time for the flavours to blend beautifully.
Make and take this tangy lobster dip to your next party for a guaranteed crowd pleaser.
Pick up a peck of oysters
We invite you to partake in the tradition of saluting the sea with the salty kiss of a freshly shucked PEI oyster.
---