Use of provincial wordmark, brand and symbols guidelines
The Prince Edward Island wordmark is a registered trademark of the Government of Prince Edward Island and may not be copied, reproduced, altered or distributed for use or otherwise used in whole or in part in any manner without written permission. Find details in provincial wordmark guidelines.
The wordmark may be used, with permission, for the following purposes:
use by a municipal, provincial or federal government;
use to recognize the Province as providing endorsement for an event, organization, product or service through financial or other means of support;
use for an organization or person representing the province on a national or international basis through a sanctioned process of selection;
the request is on behalf of a recognized official provincial organization or association representing an industry sector or a particular interest group;
use by an organization that has a partnership with the Province to produce materials with the word mark for distribution; and/or
use by an organization or person contracted by the Province to produce promotional, collateral, signage and/or other products.
Use of the Wordmark
Written approval is required for use of the provincial wordmark for commercial purposes.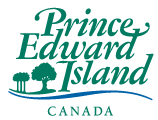 Brand Guidelines
The Brand Guidelines provide standards for language, tone and style to communicate on behalf of the Government of Prince Edward Island as well as design elements that reinforce the brand. These guidelines apply to all external communications and advertising by government departments and agencies, as outlined in the Financial Administration Act, Schedule A & B, whether produced in-house or by a third-party vendor.
Other Official Emblems and Symbols
This section provides specific information about the Lieutenant Governor's Emblem, Coat of Arms and the PEI provincial flag.

Lieutenant Governor's Emblem
Use of this symbol is governed by the Office of the Lieutenant Governor.
Coat of Arms
Unauthorized use of the provincial Coat of Arms is strictly prohibited. Permission for its use must be obtained from the Clerk of the Executive Council as per the Coat of Arms Act.
Provincial Flag
The PEI provincial flag is a symbol of honour and should be treated with respect. There is no law about flying or displaying the provincial flag, rather the provincial flag guidelines provide information about etiquette based of that of the Government of Canada.
---
Contact:
For more information about the provincial wordmark, brand guidelines, bilateral applications, signs, stationery items and vehicle identification, contact:
Communications and Public Affairs
Telephone: 902-368-5080
Email: creativeservices@gov.pe.ca