Provincial Budget: Operating Budget
The operating budget is the estimates of revenue and expenditure that detail spending plans by the Government of Prince Edward Island to operate each department for the next fiscal year.
The 2018-19 provincial budget and related information is available in the following documents:
Investing in Health
An increase of $32 million to sustain and build on the provincial health system.
Significant investments in mental health and 100 new long-term care beds over the next two years
For full details, download Health Budget Highlights
Investing in Communities
New Rural Growth Initiative will provide funding of $2.6 million to communities and organizations to revitalize community structures, attract people and grow jobs.
Over $1.45 million invested to support cultural industries
 For full details, download Communities Budget Highlights
Investing in Jobs and Businesses
Small business tax cut will save small businesses up to $2,500 a year.
New Small Business Investment Grant will help PEI companies reinvest and grow.
 For full details, download Jobs Budget Highlights
Investing in Students and Youth
New Island Advantage Bursary will provide all PEI students attending college or university in the province with an additional $3,600 for four year programs.
 For full details, download Budget Highlights for Students
Download Budget Highlights: Student Financial Assistance
Investing in Education
Up to 400 new childcare spaces, increase in wages for early years centres and added $1.2 million in child care subsidies will make it easier for PEI families to access childcare.
New frontline positions and enhanced supports for students
 For full details, download Education Budget Highlights
Investing in Islanders and Families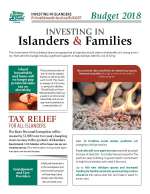 Tax relief for all Islanders
Rebates on the provincial portion of the HST on the first block of residential electricity will mean an average of $120 savings a year. Rebates for firewood, pellets and residential propane also.
Basic personal amount will increase by $1,000 over two years.
 For full details, download Islanders and Families Budget Highlights
Investing in Housing
Up to 1,000 new low-income housing units.
Significant investments in housing will allow Islanders to stay in their own homes and communities longer.
For full details, download Housing Budget Highlights
Responsible Government Spending

Prince Edward Island's economy is on a tear.
The second consecutive balanced budget means government is living within its means – and is able to invest in frontline services that matter the most to Islanders like healthcare, education and families.
For full details, download Responsible Government Spending Budget Highlights
---
Where can I find older budget documents?
Search Budget Archives for documents from 1998 to 2017.
Contact:
Telephone: (902) 368-4201
Toll-free: 1-800-236-5196
Fax: (902) 368-5544 
Email: tlredmond@gov.pe.ca