COVID-19 Alert Level System - PEI
The Chief Public Health Office has developed an alert level system to support planning during COVID-19. The primary goals of the pandemic response in PEI are to minimize serious illness and mortality, and reduce societal disruption. There are three levels of alerts: New Normal, Caution and Restricted.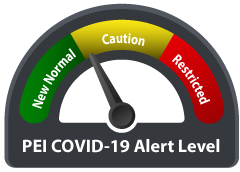 PEI is currently at COVID-19 Alert Level: Caution.
Beginning Saturday, 13 March 2021, the following post circuit breaker measures are in place until mid April 2021. The measures will be reassessed throughout.
These restrictions override all other existing sector specific public health guidance.
Click on the following link for information on how the Circuit Breaker Measures impact personal and public gatherings, recreation, businesses and NGOs, child care, health care, public services, education and training, and long-term care. 
New Normal
Learn more about the NEW NORMAL
Caution
Learn more about the CAUTION level
Restricted
Learn more about the RESTRICTED level
---
Throughout the alert levels:
priority must be put on services and supports areas for those most vulnerable (e.g. mental health, children, addiction, seniors, etc.)
phase-specific public guidance applies.