COVID-19 Testing and Case Data
COVID-19 Update Tuesday, September 20, 2022
360 new cases since last update

51 average cases per day (over the last 7 days)

Three additional COVID-19-related deaths:

An individual between the ages of 60 to 79 years 

Two individuals aged ≥ 80 years

All three deaths occurred in the month of August but were not previously reported due to a lag in death data collection and reporting

19 individuals in hospital with COVID-19

Four admitted due to COVID-19, with one in Intensive Care Unit 

15 admitted for other reasons and were COVID-19 positive on or after admission

Update on the locations of current outbreaks in high-risk settings:

Update on Long Term Care or Community Care Facilities can be found here
Acute Care Facilities 

Hillsborough Hospital Acute Geriatric Psychiatry Unit 
COVID-19 Testing and Case Data
Average number of tests per day (including both RT-PCR and Abbott ID Now rapid molecular tests) over the last 7 days
206
Percent of tested samples that were positive (last 7 days), including both RT-PCR and Abbott ID Now rapid molecular tests
23.7%
 
 
Total cases (including recovered)
51,410
Active cases
499
Resolved cases
50,851
 
Cases requiring hospitalization1 to date
280
Cases admitted to the intensive care unit1 to date
26
COVID-19-related deaths2
60
| | | |
| --- | --- | --- |
| Age distribution of cases (years) | Count | % |
| <12 | 5,635 | 11.0% |
| 12 to 19 | 5,666 | 11.0% |
| 20 to 39 | 15,676 | 30.5% |
| 40 to 59 | 13,453 | 26.2% |
| 60 to 79 | 9,099 | 17.7% |
| 80 and over | 1,881 | 3.7% |
|   |   |   |
| Age distribution of hospitalized cases1 (years) | Count | % |
| < 12 | 19 | 6.8% |
| 12 to 19 | 2 | 0.7% |
| 20 to 39 | 9 | 3.2% |
| 40 to 59 | 27 | 9.6% |
| 60 to 79 | 118 | 42.1% |
| 80 and over | 105 | 37.5% |
| | | |
| --- | --- | --- |
| Vaccination status of cases3 diagnosed in 2021 and 2022 as of 20-Aug-2022 | n | % |
| Fully vaccinated with at least one additional dose | 20,091 | 41.0% |
| Fully vaccinated | 20,292 | 41.4% |
| Partially vaccinated | 1,685 | 3.4% |
| Unvaccinated | 6,948 | 14.2% |
| | | |
| --- | --- | --- |
| Hospitalizations1 by vaccination status3  |   |   |
| Fully vaccinated with at least one additional dose | 159 | 56.8% |
| Fully vaccinated | 54 | 19.3% |
| Partially vaccinated | 10 | 3.6% |
| Unvaccinated | 53 | 18.9% |
| Unknown | 4 | 1.4% |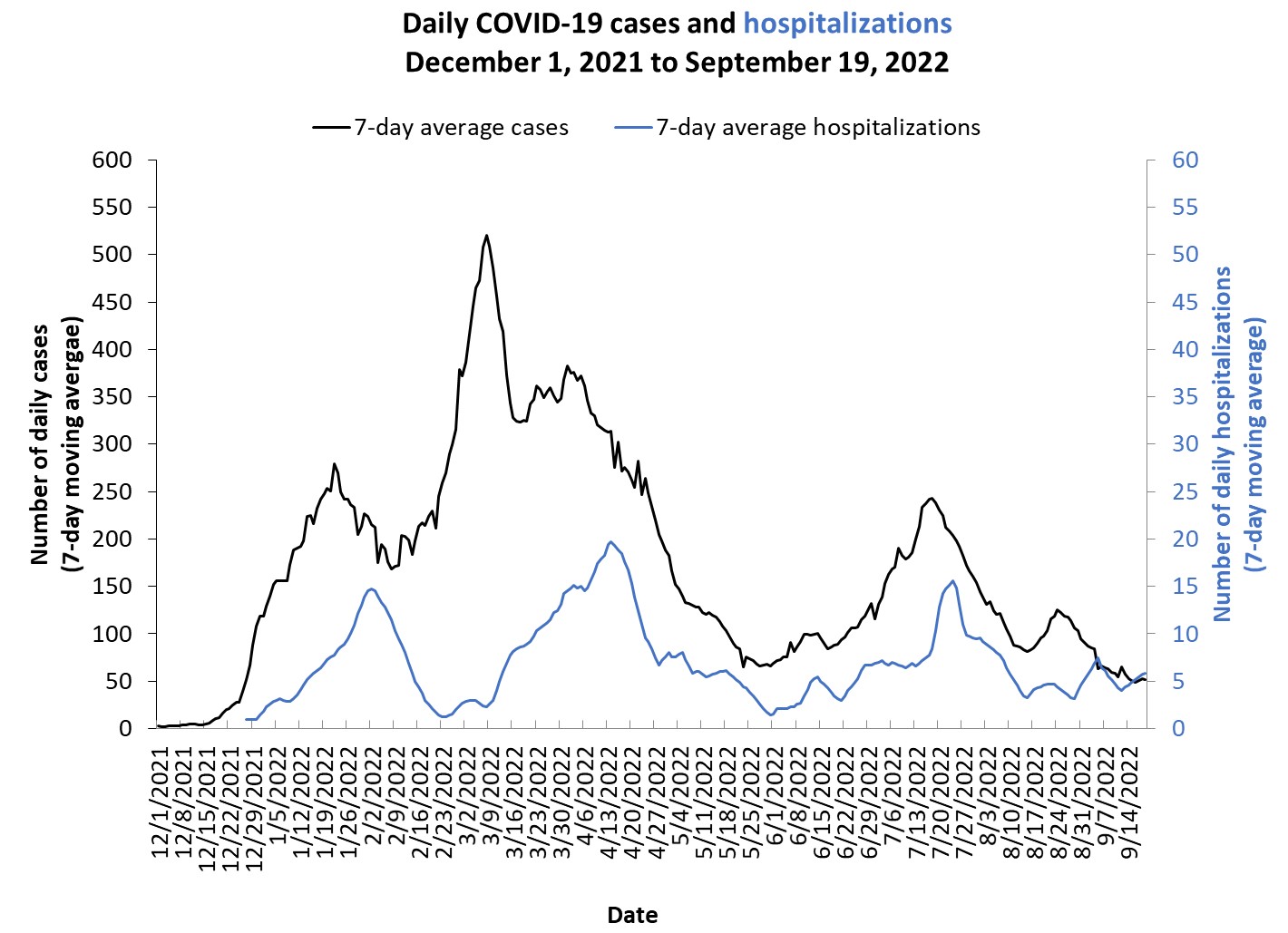 While the COVID-19 vaccines are highly effective, a percentage of the population who are vaccinated may become infected with COVID-19 if they are exposed to the virus that causes it. As more of the population is vaccinated, it is expected that an increased proportion of the cases and COVID-19-related hospitalizations will be in vaccinated individuals. The rate of fully vaccinated cases may also increase because individual protection from the vaccine may decrease over time and emergence of new variants may decrease vaccine effectiveness.
PEI contributes data to the national reporting of cases following vaccination.
Definitions:
Resolved cases: A case is deemed resolved when 10 days have passed since the date of the positive test.  The resolved case definition was developed for surveillance purposes and is not related to clinical management of cases. The intent is to report on individuals who are no longer considered contagious (vs. active cases, who are still considered infectious). 
Unvaccinated cases include those who were unvaccinated or whose episode date occurred less than 21 days after their first dose of the vaccine.
Partially vaccinated cases include those whose episode date occurred 21 days or more after their first vaccine dose or less than 14 days after their second dose of the vaccine.
Fully vaccinated cases include those whose episode date occurred 14 days or more after their second dose of a two dose vaccine series or those whose episode date occurred 14 days or more after one dose of a one-dose vaccine.
Fully vaccinated with at least an additional dose: People who are fully vaccinated (that is, completed their primary series) and have received at least one additional COVID-19 vaccine dose.
Episode date corresponds to the earliest date reported according to the following order: Symptom Onset Date, Specimen Collection Date, or Test Confirmation Date.
1Received treatment in hospital as a result of COVID-19
2A death due to COVID-19 may be attributed when COVID-19 is the cause of death or is a contributing factor.
3In order to protect the privacy of individuals and to ensure estimates meet reliability standards, information on the vaccination status of cases will only be updated periodically and when the reliability of the estimates are supported by the available data.