Food Premises on PEI: COVID-19 FAQ
As per the direction of the Chief Public Health Officer, all food service premises are now required to restrict operations to take-out, pick-up and delivery only.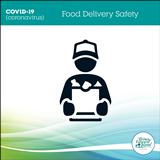 This decision has been made in keeping with the recommendations regarding social distancing and group gatherings as we all work to do our part to minimize the potential impact of COVID-19 in PEI.   
Food premises offering take-out or pick-up options must take into consideration the social distancing requirements. If social distancing requirements can't be met, delivery is another option. 
If the premises can't provide any of the above options in a safe manner, then the premises must close.
This content has been prepared as a reference for operators operating under the current restrictions.
Cleaning and Sanitizing
What is the approved method to wash hands?
All food service workers should continue with routine hand washing procedures as often as is necessary.
Wet hands with warm running water 
Apply soap
Scrub hands for 20-30 seconds. Ensure to scrub in-between fingers, on top of hands and hard to reach areas.
Rinse 
Dry hands with single use paper towel 
Use towel to turn off faucet 
How do you effectively use gloves? 
A "no bare hands" policy is recommended when handling ready-to-eat foods at all times, but is especially important to be aware of at this time. Gloves and utensils can be used to minimize bare hand contact of food. If proper handwashing is practiced, and gloves are changed frequently, gloves can provide an effective barrier between the hands, the food handlers and the foods they handle.  
Hands must be washed and dried:

before wearing gloves
when changing to a new pair of gloves
after removing the gloves 

A new pair of gloves should be worn:

when changing tasks
after touching your hair, body or face.
at any time gloves may become contaminated.
Prolonged use of a single pair of gloves can result in excess perspiration on hands, which provides ideal conditions for bacterial growth on skin. Gloves should be changed as often as you would wash your hands. Disposable gloves should only be used once.   
How should I change my cleaning and sanitizing schedule during COVID-19?
It is recommended that food premises review and possibly update their current sanitation plan as needed. Consider creating an enhanced cleaning and sanitizing schedule of frequently touched surfaces, including:   
draught taps and pop guns
doorknobs and equipment handles. 
hand soap and paper towel dispensers
mobile payment devices
phones and electronics
light switches
menus
chairs 
salt & pepper shakers
condiment bottles 
These surfaces should be cleaned and sanitized with an approved sanitizer at an increased frequency (i.e. at least twice daily in addition to routine practice).
How to sanitize
Prepare the solution and verify concentration with test strips
If using a spray bottle, wipe surface with a single use paper towel. 
If using bucket sanitizers, ensure cloth is left submerged in the sanitizer at all times when not in use. 
The sanitizing solution must be maintained at an adequate concentration and free of debris, cloudiness and other matter that may interfere with the effectiveness of the sanitizer. 
Allow surface to air dry
Employees
How do other staff protect themselves?
Maintain social distancing of employees at the work site.
Ensure contactless hand off at drive-thrus.
Encourage payment via credit card/debit card or advance online payment: discourage the handling of cash.
How can delivery people protect themselves?
Wash your hands often with soap and water for at least 20 seconds especially after you have been in a public place or after blowing your nose, coughing, or sneezing. 
Drop at door delivery should be the standard.
Because soap and water are not readily available for delivery people, use a hand sanitizer that contains at least 60% alcohol after each delivery and at any time hands may become contaminated. Cover all surfaces of your hands and rub them together until they feel dry.
Avoid touching your eyes, nose, and mouth with unwashed hands.
Touch screens and electronic payment devices can be disinfected using 70% alcohol swabs.
Do you have any other recommendations that I should take to prevent the spread of COVID-19?
Ensure you have adequate supplies needed to safely operate your food premises. Some examples include: sanitizer, sanitizer test strips, take-out containers, gloves, hand soap, etc.
Ensure all staff are aware of their role(s) and are adequately trained to prevent the spread of COVID-19 to friends, family and the community. 
Do I need to have a sick worker policy? 
Each food premises should have their own sick worker policy. At this time, it is critical to ensure staff is educated on COVID-19 specific requirements under any illness policy.  Read guidance regarding when COVID- 19 self-isolation is required and what it means.
COVID-19 and Food Safety
Learn more at Food Safety: COVID-19 Frequently Asked Questions