Paxlovid (antiviral for treating COVID-19)
What is Paxlovid™?
Paxlovid™ is an oral antiviral medication to treat mild to moderate COVID-19 in adults who are at higher risk of severe illness.
Who is eligible to get Paxlovid™ in PEI?
Not everyone who tests positive for COVID-19 would benefit from antiviral treatment. Paxlovid™ is for individuals at higher risk of more severe outcomes such as hospitalization, and who do not have any contraindications for the treatment (such as being on certain medications that can't be used at the same time as the treatment).
You may be eligible for anti-viral treatment, IF you have a positive test result, AND are experiencing COVID-19 symptoms that developed within the last 5 days, AND at least ONE of the criteria below:
Age 18 and over with underlying medical conditions* that lead to high risk of severe outcomes including hospitalization or death regardless of COVID-19 vaccine status; OR
Indigenous adults age 18 and older OR
Age 50 and older (regardless of vaccine status).
How can I get a prescription for Paxlovid™ in PEI?
Call your family physician/nurse practitioner, your participating community pharmacist, or 811 (Telehealth Service) to discuss your eligibility.
If you do not have a current PEI Health Card please contact 8-1-1 to be assessed for Paxlovid.
The screening and prescribing process for those who may be eligible to receive the Paxlovid™ treatment can take time. If you think you meet the eligibility criteria, call your local pharmacist, primary care provider or 8-1-1 in advance to help ensure you are screened and begin treatment within five days of experiencing COVID-19 symptoms.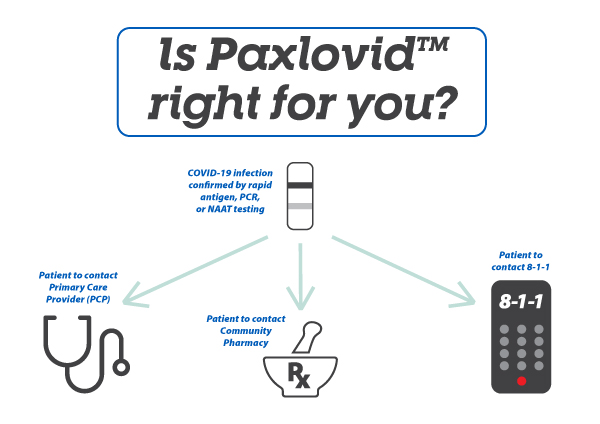 Do I have to pay for a Paxlovid™ prescription in PEI?
No. Currently there is no cost for patients to receive Paxlovid™.
What are some of the side-effects related to Paxlovid™?
Some of the most commonly reported side effects include a bad (metallic) taste in the mouth, nausea, and diarrhea. More information about side effects can be found on Health Canada's website for Paxlovid™. Serious side effects should be reported to a healthcare provider. If you need emergency medical help, stop taking the medication and call 9-1-1.
How does Paxlovid™ work?
Paxlovid™ contains two antiviral medications co-packaged together, nirmatrelvir and ritonavir. Paxlovid™ stops the virus from multiplying. This can help your body to overcome the virus infection and may help you get better faster.
What is COVID-rebound?
COVID-rebound is a term being used for a brief return of symptoms between 2 to 8 days after initial recovery from illness. The phenomenon has been observed in people who have taken Paxlovid™ although it may also occur as a normal progression of infection in some people regardless of treatment. Paxlovid continues to be recommended for early stage treatment of people at higher risk for severe illness and hospitalization, and there is no evidence that rebound infections are more severe or require additional treatment at this time.
Where can I find out more information about Paxlovid™?
Additional information on Paxlovid™ can be found on Health Canada's webpage.