Preventing Opioid-Related Overdoses
Opioids are drugs that include prescribed pain relievers, like codeine or morphine, as well as illegal drugs, like heroin. Patients can benefit from opioids that are prescribed and used properly. When opioids are misused, they can be deadly.
Unknowingly, potent opioids like fentanyl may be put in illegally produced pills that look like prescription medications, including Percocet, Oxycontin and Xanax. None of these commercially produced formulations contain fentanyl.
In Canada, opioid use and overdose deaths are on the rise.
Call 911 right away, if you think someone is overdosing.  An overdose on opioids can quickly lead to death.
  
Reduce your risk
What are situations that can put me at risk of an opioid-related overdose?
mixing substances including alcohol and prescription drugs
recreational or one time use
changes in prescription
using after period of reduced or no drug use
Fentanyl, a highly potent opioid, has been detected in PEI. Anyone who is going to consume street drugs – not only opioids, but any drug in pill or powdered form – are asked to take steps to reduce risks.
How can I reduce my risk of overdose?
Don't use alone
know your tolerance (that is, how much you can take)
have a Naloxone kit with you, and know how to use it
start with a small amount to check the strength
do not take opioids with alcohol or other drugs (unless prescribed by your doctor)
What should you do if you suspect an overdose?
Call 911 right away if you suspect an overdose. The sooner you call the better the chance of recovery.
An overdose might look different from one person to the next. But there are a few things you can look for if you suspect someone may have overdosed on an opioid like fentanyl. This includes slow, shallow breathing or no breathing and severe sleepiness or the person is not responsive.
The Canadian Good Samaritan law protects people from being charged for simple drug possession. Call 911 to save the life of someone who overdoses.
Call 911 even if naloxone is used because it may not be enough to counteract the drugs in your system; it only lasts for 20 minutes, and it may result in the person going into withdrawal, which is better managed by professionals.
Where is Naloxone available?
The following sites have free naloxone kits free of charge for clients who are at high risk for opioid-related overdoses, and their friends or family members: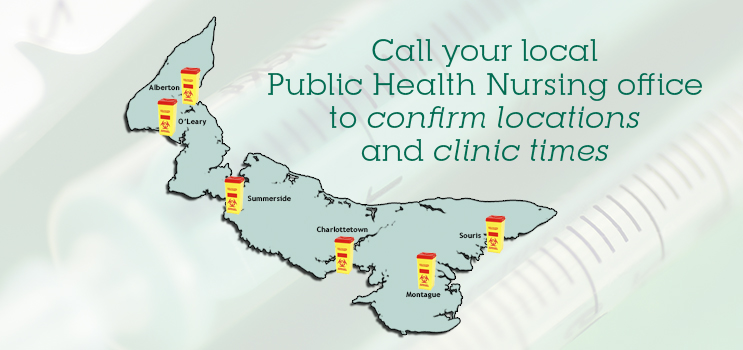 Provincial Addictions Treatment Facility 
Queen Street Recovery Clinic
Montague/Souris Community Mental Health and Addictions
Provincial Corrections Center
Mental Health and Addictions Summerside
Mi'kmaq Confederacy
PEERS Alliance
If a community member feels they require a naloxone kit and are not a client of any of the services listed above they can obtain a kit at no cost at any of the Needle Exchange Program sites across the province.
Hospitals, emergency departments, provincial correctional facilities, opioid replacement clinics, EMS and police are all equipped with Naloxone.
Anyone can purchase a naloxone kit without a prescription (cost is approximately $50) at most PEI pharmacies.
Other community groups/programs that serve populations who are at risk for opioid-related overdoses equipped with naloxone kits to use in the case of staff encountering an overdose in progress include:
Volunteer fire departments with medical first responders across PEI
Strength and Insite programs
Community Mental Health Outreach Queens
Provincial Group Homes
Libraries and Archives
Soup Kitchen
Distribution and Administration of Take Home Naloxone (THN) Kits

| Time Period | THN kits distributed to Needle Exchange Program | THN kits distributed to other sites where kits are available to clients | Reports of administration of THN kits | THN kits distributed to community groups/programs that serve populations who are at risk for opioid-related overdoses |
| --- | --- | --- | --- | --- |
| June 1, 2017 - December 31, 2019 | 728 | 448 | 261 | 141 |
1Naloxone is administered when signs of decreased level of consciousness are identified; a decreased level of consciousness is not necessarily a result of opioids. Most confirmed instances of opioid-related overdoses (reported since 2017) and all deaths (reported since 2016) involved mixed toxicology. If a naloxone kit is used by a client of the THN program, an anonymous form is filled out with the details of the situation and the form is returned to the CPHO for surveillance purposes. There have been twenty-six forms submitted as of Dec 31, 2019, indicating that naloxone was administered. In twenty-five of the forms, it was reported that the person survived; no information was provided on one form. Note that the CPHO does not have numbers on naloxone usage by first responders or other health service providers as this is not part of the Provincial THN Program.
Treatment for Opioid Addiction and Misuse
Where can I get treatment?
If you are addicted to opioid drugs, treatment and supports are available to help you recover. To learn more, visit Opioid Replacement Therapy Program. Treatment is also available through the Queen St Clinic, (902) 892-7000, located in Charlottetown. 
What other services are available to people who use drugs?
The Needle Exchange Program provides confidential services including clean needles and other supplies, immunization, wound care, education, and referrals. 
---
Opioid-Related Overdoses and Deaths in PEI
Opioid-related non-fatal overdose and death surveillance reports are posted here on a quarterly schedule. This information helps to inform program planning and to identify increases in overdoses or deaths.
| Time period | Number of accidental opioid-related non-fatal overdoses in PEI1 | Number and percent of accidental apparent opioid-related non-fatal overdoses involving fentanyl5 | Number of accidental apparent opioid-related deaths in PEI2 | Number and percent of accidental apparent opioid-related deaths involving fentanyl or fentanyl analogues |
| --- | --- | --- | --- | --- |
| April to June 2023 | 26 | 0 (0%)6 | 04 | 04 |
| January to March 2023 | 10 | 4 (40%) | 24 | 0 (0%) |
| 2022 | 36 | 9 (25%) | 6 | 1 (17%) |
| 2021 | 25 | 2 (8%) | 12 | 0 (0%) |
| 2020 | 19 | 9 (47%) | 8 | 4 (50%) |
|  2019 | 5 | 1 (20%) | 5 | 0 (0%) |
| 2018 | 24 | 0 | 8 | 1 (13%) |
| 2017 | 103 | 0 | 5 | 0 (0%) |
| 2016 | not available | not available | 5 | 1 (20%) |
1 Accidental/unintentional overdoses involving opioids does not include overdoses that occurred as a result of intentional self-inflicted harm.
2 Accidental/unintentional deaths involving opioids does not include deaths that occurred as a result of intentional self-inflicted harm; only closed (certified) cases are reported.
3 Surveillance by the Chief Public Health Office of toxicological cases presenting to PEI's emergency departments began in May 2017. 
4 Death investigations can take 12 to 18 months to complete. Data for 2023 are incomplete and numbers may increase as coroner investigations continue.
5 For overdose cases, fentanyl and fentanyl analogues are not detected by traditional toxicology screens. As of November 21st, 2018, fentanyl screening was made available at all four emergency departments in PEI. Information on the presence of fentanyl and analogues for overdose cases is incomplete as it remains a physician clinical decision as to whether or not fentanyl testing is required for the treatment of an overdose patient.
6 Data for 2023 are incomplete.
Taking action
Drug overdose deaths are preventable.
The provincial government has developed an action plan to prevent and mitigate unintentional opioid overdoses and deaths among youth and adults in Prince Edward Island.
Prescription Monitoring
The Health PEI Pharmacare program has developed a provincial prescription monitoring report on narcotics. Opioids are one of several types of monitored drugs that are considered in this report. 
2018 Prince Edward Island Prescription Monitoring Report: Narcotics (Opioids & Monitored Drugs)
2017 Prince Edward Island Prescription Monitoring Report: Narcotics (Opioids & Monitored Drugs)