Support Through the Transition
The EMR Program will be working alongside Telus in developing a series of its own services to support clinicians through this transformation. This support will include extensive training, funding incentives and peer support. 
In addition to a team of trainers, we will have a team of clinicians acting as our advisors to help identify ways where we can support you.   
Clinician Guided
Clinician guided EMR selection.
Physician representation across the EMR Program.
Ongoing broader clinician and support staff engagement planned through each milestone.
Implementation Support
EMR Advisors will guide clinics through every stage of their implementation.
Objective to minimize disruption to practice during implementation.
Based on lessons learned across Canada.
Training Before, During, After
Training approaches are based on lessons learned for EMR implementations in neighbouring jurisdictions.
On-site EMR Advisors to train you before, during and after implementation.
Financial Support
Financial support will be provided. See the model below.
EMR Program
A sustainable EMR Program to provide post-implementation service offerings such as Progress Assessments, Advanced Use, Webinars.
Financial Support
Below is a summary of the financial support model.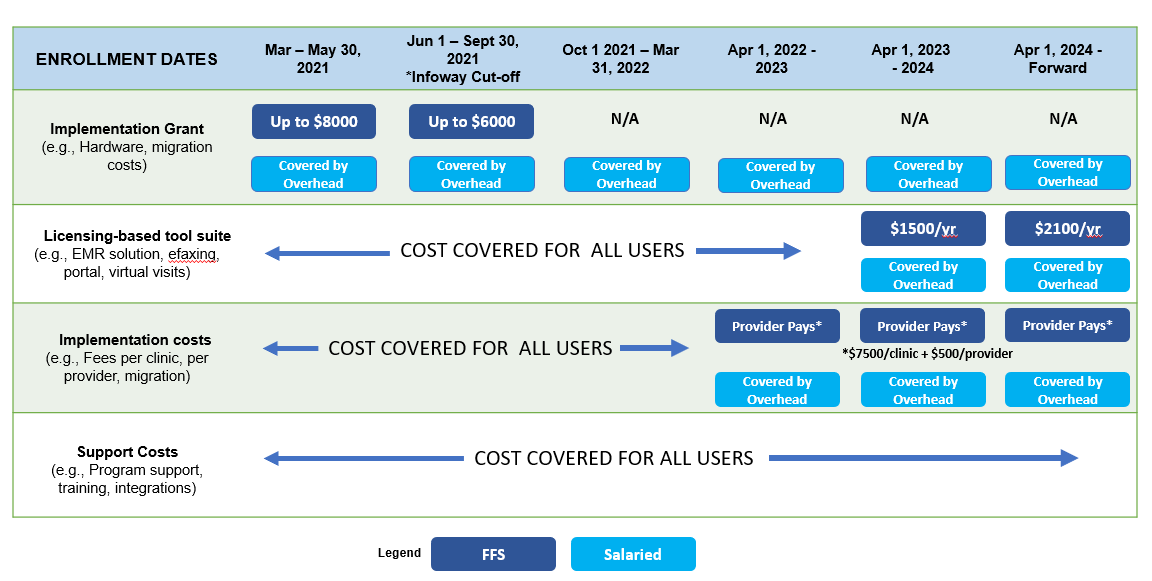 If you're unable to view the diagram, please download the following version. Financial Model (PDF)
The following diagram illustrates how funding windows are tied to enrollment.  
If you're unable to view the diagram, please download the following version. Enrollment Process (PDF)