Updated COVID-19 Measures – as of February 16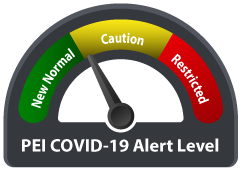 Effective February 16, 2021, the following temporary measures are in place until further notice. The situation will continue to be assessed throughout.
All businesses, services and organizations, as well as organizers of organized gatherings, are required to have measures in place to mitigate transmission of COVID-19 and to develop and follow an operational plan detailing those measures.
PEI's participation in the Atlantic Bubble will remain suspended, and will continue to be assessed.
Post circuit breaker holiday measures
Family and friends

Personal gatherings of your household and up to ten (10) additional individuals indoors or outdoors; these individuals should be as consistent as possible and physical distancing maintained as best possible

Ensure anyone coming to your home is not in self isolation and does not have symptoms of COVID-19
If someone in your household is self isolating or has symptoms of COVID-19 you shouldn't host a personal gathering

Gatherings (including religious gatherings)

Organized gathering limit of 50 for activities including concerts, worship services, bingo halls, and movie theatres with an operational plan

Three additional multiples of 50 permitted with a prior approval of the operational plan (up to 200 total); updated multiple gatherings guidance around shared facilities
Facilities who are able to demonstrate separate entrances/exits/bathrooms for additional cohorts can be considered on an individual basis 

Weddings (both ceremonies and receptions) and funerals up to 50 individuals plus officiants; not eligible for multiple gatherings
Organized gatherings cannot occur in personal dwellings

Recreation

Gyms/fitness facilities, museums, and libraries, may operate provided:

Physical distancing and other public health measures are maintained
Group activities follow the gathering limits

Organized recreation and team sports may resume following the organized gathering limits, with enhanced attention to records for contact tracing

Business and NGOs

Retail stores, markets, and craft fairs may operate provided physical distancing and other public health measures are maintained
In-person consumption of food and beverage at food premises and licensed facilities with a 12 a.m. closing time; maximum table size of ten

People should be seated at all times, except for going to washrooms and entering/exiting
Limit of 50 people with an additional three groups of 50 permitted with a prior approval of the operational plan

Personal services, may operate following the Personal Services Guidance.

Child care

Unlicensed and licensed childcare centres 100% capacity, with physical distancing

Health care (including community) 

Maintain COVID-19 surge capacity and build the PPE contingency stockpile while continuing delivery of healthcare services
In person residential day programs and mental health and addictions programs to continue

Public services

Public services should be available in-person, phone, virtual, delivery or pick-up

Education and Training

Full time classroom learning for K-12 with public health measures in place and a contingency plan for remote learning
Post-secondary education and training through online and/or in-person  learning with public health measures in place

Long-term care

Up to three partners in care. Limited number of visitors permitted in designated areas.
Residents permitted to travel only in the company of partners in care, or for exceptional circumstances
Strict public health and control measures
Public Guidance Measures we can all take to prevent transmission of COVID-19:
Stay informed, be prepared and follow public health advice
Keep your circle of contacts small and consistent
Wash your hands often with soap and water for at least 20 seconds; if not available, use a hand sanitizer that contains 60% - 80% alcohol
Stay home when ill and get tested promptly if experiencing symptoms of COVID-19
Maintain physical distancing of 2 m (6 ft.) with individuals who are not part of your household
Non-medical masks are required for indoor public spaces. Wear a non-medical mask in outdoor settings when you cannot maintain physical distancing from people from different households. Wearing a non-medical mask alone will not prevent the spread of COVID-19, and does not replace other public health measures such as physical distancing, hand washing, and staying home when sick.
Don't touch your face with unwashed hands
Cough or sneeze into a tissue or your sleeve, and wash your hands directly after
Frequently clean and disinfect commonly touched surfaces such as taps, doorknobs and countertops
With employer's support, consider working from home where feasible, especially when physical distancing cannot be maintained in the workplace, or prepare to have that option available should the need arise
Consider alternative ways to access and provide services including online shopping, home delivery, and curbside pick-up options
When seeking services outside of the home, follow public health precautions
People from different households can carpool or share drives. If physical distancing can't be maintained, non-medical masks should be worn and every effort should be made to ensure some distance between passengers, including limiting the number of persons in a vehicle
Vulnerable individuals should exercise caution and minimize high-risk exposure situations
Keep a log of interactions to self-monitor and to facilitate contact tracing should a case be detected
Frequently Asked Questions
I was planning an organized gathering with 50 people – what does this mean for my event?
Organized gatherings are now permitted to proceed with an operational plan as per the gatherings guidance; weddings and funerals are limited to 50 individuals, plus officials.
I have been approved for a multiple gathering, with four groups of 50 (200 people total) – what does this mean for my event?
Multiple gatherings with four cohorts of 50 are permitted at this time. If you were already approved for more than four groups of 50, you can proceed with four of the groups you were already approved for. If you have a multi-use facility, please reach out to the envhealth@ihis.org to discuss.
Are pop-up markets and craft fairs permitted?
Yes, pop-up markets and craft fairs are permitted, following the retail guidance and guidance for markets and craft fairs.
What is a personal service?
Examples of personal services include hair salons and barbers, manicures and pedicures, massage, tattooing, and acupuncture. A more exhaustive list can be found here: Personal Services.
Please note that personal services providers and clients must wear a non-medical mask at all times. When a non medical mask cannot be worn by the client due to the service being provided, the service provider should wear a non-medical mask and eye/facial protection for the duration of the appointment. Appropriate eye/facial protection options include a shield or goggles that fully protect the eyes. Personal glasses are not appropriate eye protection. 
What does enhanced attention to records for contact tracing for organized recreation and team sports mean?
Enhanced attention to records for contact tracing means:
ensuring to capture people's full name (first and last)
printing information clearly so it is readable
including contextual information such as the name of the activity and the time of the activity
making sure that everybody is included on the list, including referees, volunteers and other officials as well as coaches, and
capturing not only people's names and contact information but also what role they play (e.g. are they a player/coach/ref/etc.)
This is in addition to the standard guidance on records for contact tracing.
Operations must keep daily records of all players, staff, and volunteers, participating in their program. Operations must also keep daily records for spectators of at least one person per table/seating area and the number of individuals per table/seating area. This can be done with a responsible person completing attendance on site or electronically with verification on site. Records including the names and phone number should be kept for one month to facilitate contact tracing in the event of an outbreak. Operations should have an internal process in place to quickly retrieve these records, should the records be needed, even on weekends. These records should be stored in a safe, secure location for one month after creation of the records and then disposed of using a secure destruction method to maintain the confidentiality of participants.  For paper records, secure destruction means, at minimum, cross-cut shredding.
My business is not listed above as having additional restrictions placed on it, can I still operate?
If your business, service or organization does not fall under the additional restrictions outlined above, then it may continue to operate following the general public health precautions for your sector.
Can I do a drive-in or drive-thru event?
Yes, drive-in and drive-thru events are permitted with the following precautions in place:
An operational plan outlining measures to mitigate the transmission of COVID-19 is in place and followed
Vehicles are separated by a minimum of 2m/6ft
Individuals remain in their vehicles (except for washroom breaks)
For drive-thru events involving more than 50 people, there is minimal interaction between individuals outside of vehicles and those inside of vehicles
If organizers must gather outside to provide the services, the organized gathering limit applies. The organized gathering limit does not apply to individuals in cars.
Are tournaments allowed to occur?
Tournaments are now permitted provided the total number of people mixing over the span of a day does not exceed 50; events with more than 50 people must be separated into divisions of no more than 50, crossover between divisions permitted on separate days; a prior approval required for events involving greater than 50 people.
Players must be asked at the start of the event about COVID-19 symptoms and whether they have travelled off Island or have been in contact with anyone who has travelled off Island in the last 14 days.  
Pre or post game/tournament activities are restricted to team only.
No large team or multi-team shared residences, including hotels.
These competitions should only proceed if their sport association has deemed that the sport can be done safely in these numbers.
The 50 person limit is to minimize risk of transmission and keep contact tracing manageable in the instance of a positive case.