The Department of Health and Wellness has established an EMR Program to support the province-wide implementation and ongoing, advanced use of the EMR.

The EMR Program will:
Ensure the advanced use of the provincial EMR to support the delivery and administration of community-based care.
Provide services to support clinical and administrative use of the EMR (e.g., establish policies and standards, workflows, system configuration, form/assessment creation, analytical support, ongoing training)
Acts as a primary point of contact and facilitator for discussions and services delivered between stakeholder groups (e.g., Vendor contract management, EMR Program Governance activities)
Managing EMR requests for changes in support of annual business planning and longer term EMR roadmap planning activities.
The program is co-led by Dr. Kristy Newson and Kim Knox, EMR Program Manager.
Program Timeline
Phased implementations will begin in the summer and continue through 2021, 2022 and beyond.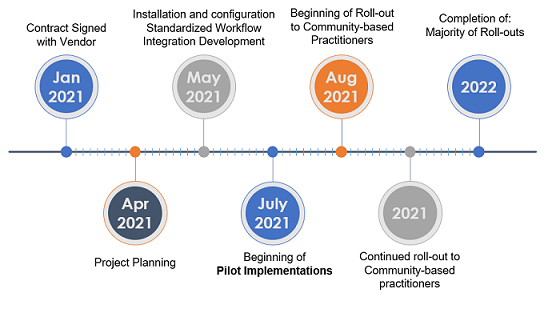 For more information, contact the EMR Program by sending an email to emrprogram@gov.pe.ca