"This makes it someone's job"
FLS Program aims to prevent life-altering injuries before they happen
Joan Adams' family had planned their holiday in Nova Scotia for a long time.
"We had started talking about it during COVID, but we wanted to wait until we all felt safe," she said.
Her family rented a series of cabins near the sea in August of 2021. On one of the first nights of the vacation, Adams was flitting from cabin to cabin, visiting the loved ones she'd waited so long to see.
"It had been raining that night," recalled Adams. "I walked across a slippery deck and the planks broke beneath me. I came down hard and shattered my right shoulder. It was a terrible break. There was nothing to do but replace the joint."
Fractures like Adams' raise alarm bells for Dr. Martha Carmichael, an internist geriatrician and the Provincial Medical Director Seniors Care for Health PEI.
"I see it happen so often," she said. "An older person comes into the hospital with a broken wrist or shoulder. I just know I'll see them again in the next six months to a year with another fracture. It's often only a matter of time before it's a broken hip, which can have a devastating impact on a person's life. 60 per cent of people who experience a broken hip don't recover their full movement and independence."
This January, Adams' lost her balance again, this time while she was at home in Stratford.
"I was walking through the kitchen when I slipped," she said. "As I was going down, I remember thinking: I can't break that shoulder again. I turned myself as I fell and ended up landing on and breaking the other shoulder."
This time, her care was a little different. As part of her treatment after her broken bone, she met Ashley Poole, a nurse practitioner in charge of Health PEI's new FLS Program, during an appointment at the QEH Orthopedic Clinic.
"FLS stands for Fracture Liaison Service," explained Poole. "Which means, if you're over 50 and break a hip, wrist, shoulder, or pelvis, you can expect to see me. I screen patients for the risk of future fractures and prescribe treatment for patients at a high risk to prevent future broken bones. We're actually the first province in the country to offer this service to every resident who experiences a fragility fracture."
Poole's position is one Dr. Carmichael, Dr. Scott Wotherspoon (Orthopedic Surgeon), and others have advocated for years.
"This makes it someone's job," said Dr. Carmichael. "This means someone is watching the fractures come in and out of the hospital and following up with those patients to make sure their bone health is being addressed. If we can screen you for future fracture risk and prescribe treatment to help strengthen your bones, we can reduce the chance of a future break by as much as 70 per cent."
Adams met with Poole after her second break and immediately scheduled her for a bone density screening.
"There was definitely a loss of density, but not as bad as they had thought," said Adams. She chuckled. "It turns out, I really did just have a couple of nasty falls! But, I am now taking Vitamin D every day and having injections of a drug called Prolia every six months to improve my bone density."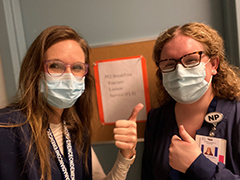 "I work with high-risk patients for a year, following up on their progress," said Poole. "It's important to have that continuity. And I have built great relationships with other members of the health care team, including the orthopedic surgeons, and primary care providers, who have been very supportive."
Adams was able to recover from her second fracture without the need for surgery. She's grateful for the service and feeling optimistic about the future.
"I don't have a family doctor on the Island, so the fact that someone is keeping track of me and looking out for me is reassuring," she said. "I was told it could be up to a year before I would see a doctor to discuss bone density. Not only was I fast-tracked because of this program, it's been just seven months since my break, and I'm already several months into my treatment. It's wonderful."
To learn more, contact the Provincial Geriatric Program office at 902-432-2860.