"There's a better way to do health care. We need to work together." 
The patient medical home model is working at the Kinlock Medical Centre.
Four years ago, a group of Charlottetown-area doctors came together for a meeting.
"We didn't even have a name for what we were talking about, but we all knew the current system isn't working," said Dr. Megan Armstrong, a family physician who was at the meeting. "It's not working for us. It's certainly not working for patients. We agreed there's a better way to do health care. We need to work together."
The ideas discussed at that meeting would eventually become the Kinlock Medical Centre in Stratford. Five family physicians work in the centre providing care, supported by a growing staff of nurses, other allied health care professionals, and administrators.
"We wanted patients to have the absolute best access to the care of the clinic, even if it's not always access to us as physicians," said Dr. Armstrong. "We were more than six months in before we realized the College of Family Physicians of Canada (CFPC) had a name for what we were building. It's a patient medical home: the same model being rolled out by Health PEI across the province."
Steve Lawlor is a physiotherapist with more than 15 years' experience. He came on staff at Kinlock in January.
"This is an incredibly exciting place to work," he said. "The family docs here were keen to do things differently. There was no blueprint in how to do this, which was a blessing in disguise, because there's no way to pigeonhole anyone."
The difference for patients begins when they call for an appointment.
"Let say they've called because they have a sore shoulder," said Lawlor. "Front desk staff can say, 'Dr. Armstrong can see you at her next available appointment in a few weeks, or we can get you into the physiotherapist tomorrow.'"
Lawlor laughed. "And more often than not, they're more than happy to come see me," he said.
"That's the thing," said Dr. Armstrong. "If you have a sprained ankle, you want to see Steve. He has the knowledge to take care of you. He's better at that than I am. If the best thing for the patient is to see Steve, that's what I would have recommended anyway. It saves time for the patient, but it also saves time for me so I can see other patients sooner."
For Lawlor, the patient medical home system works well. Having access to a physician just by working in the same building makes a huge difference.
"People say, 'what happens if you see someone, and their issue is something that should be seen by a family doctor?' To me, that always happened. Only now, the family doctor is my colleague. I see them in the hallway. We can consult, and I can send the patient to them for the appropriate care."
The Kinlock Medical Centre is still evolving. It's building up and expanding services to fulfil the original vision.
"Step one was moving to having the staff work for the centre, rather than for individual doctors," said Dr. Armstrong. "Next came switching to an electronic medical records system, which was a big change. We have five doctors, primary care registered nurses, and physiotherapy—including masters students from the university. We're now ready to bring on a bigger team of allied health professionals, covering everything from nutrition to vision care and beyond."
Dr. Armstrong says there's a real opportunity under the patient medical home model to allow allied health professionals, like Lawlor, to work full scope.
"In PEI, the family physician is the gateway to a system of services, and that's unnecessary," she said. "It's a barrier to care. If you have to see your family doctor to get a referral to see a nurse for something that's within the scope of a nurse's job, that's a problem. It takes up the doctor's time, and it removes other people's access to that doctor."
Dr. Armstrong said she's careful to point out no one is losing their family doctor under this model.
"Each doctor keeps their own panel, so you will still be connected to your own family physician," she said. "If you're admitted to the hospital, you will still be admitted under their name. Only now, when you call my office, if there's someone here who can better serve you for your unique issue, we can suggest you see them."
Dr. Armstrong is sure other doctors are watching the Kinlock Medical Centre to see how it evolves.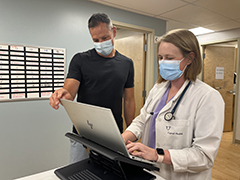 "I think most doctors want this, but it takes so much time in effort and planning to shift how you practice," she said. "Most doctors are so overworked just trying to get through the basics of practice they don't have time to sit through three-hour meetings every week to re-invent the wheel. It's not that they don't want to. But if these centres were already set up and they could just walk in? You bet they would."
Lawlor is excited for the next steps. "This is working for me, and I think it's working for patients, too," he said. "I'm supporting family physicians and helping manage patient loads. This idea that everyone has a family doctor is a tough one. This issue we're facing on PEI isn't unique. It's a nationwide issue. Places like Kinlock are successful because we're managing patients in exciting ways that work for everyone."