The Equestrian Pilot Project has ended for 2021. The Department of Transportation and Infrastructure will be evaluating feedback over the winter.
What is the Equestrian pilot project?
This is a pilot project that allows equestrians to ride on three (3) sections of the Confederation Trail, one in the East, Central and West. The pilot commences Sunday, August 15, 2021 running for 90 days until Saturday November 13, 2021. This provides an opportunity to explore the concept of horses on the Confederation trail and will be closely examined throughout the pilot and assessed afterwards for future feasibility of allowing horses on the Confederation trail.
Where is the pilot's three designated trail sections?
Three sections of the Confederation trail have been carefully selected for the pilot project. They have been chosen carefully on the basis of having at least one large parking area along the route that would be suitable as an equestrian trailhead (i.e. a parking area which would accommodate multiple horse trailers), low volume and traffic and being located rurally well outside high-use urban areas of the trail.
Equestrian Pilot West
Beginning at the Charles F. Willis Memorial Racetrack and ending at the Murray Road in Piusville. Trailhead parking is located at the Charles F. Willis Memorial Racetrack on Gaspe Road, O'Leary, adjacent to the Trail.  
Distance: 12 km one-way.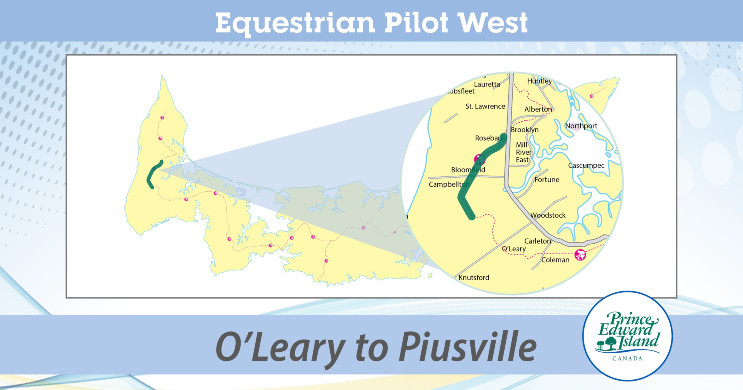 Equestrian Pilot Central
Beginning at Anderson Rd, and ending at Freetown Road.  
Trailhead parking available at: McCardles Seed Storage, on the SE corner of the intersection of the Trail and Anderson Road.
Distance: 11 km one-way.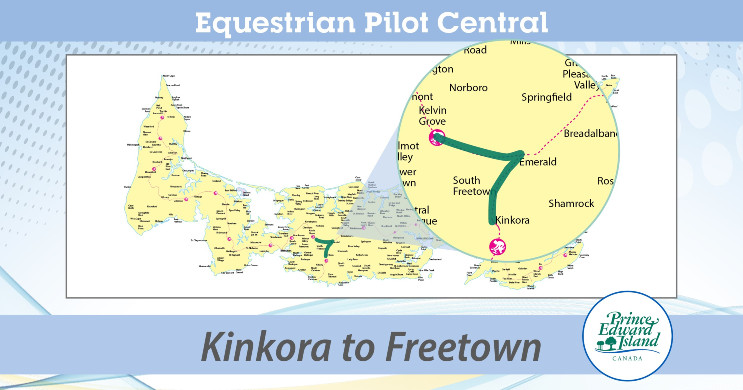 Equestrian Pilot East
Beginning at Georgetown Road, and ending at Highway 23. 
Trailhead parking at the designated Confederation Trail parking lot on the south side of Georgetown Road, adjacent to the trail.  
Distance:  14 km one-way.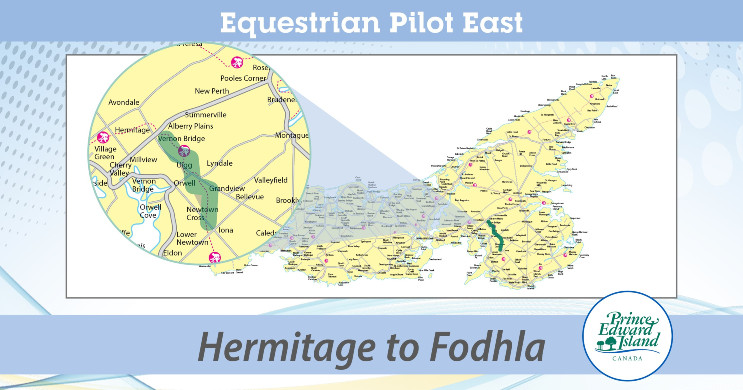 What are the guidelines for this pilot project?
Where can I give my feedback about this pilot project?
As part of the evaluation process we will be seeking feedback and collecting from users of the trail. This information will be collected via a questionnaire accessed by scanning QR code sign placed at each of the various trail heads.
If you would like to provide general feedback, please email: DTIpilot@gov.pe.ca