Roundabouts are constructed at key intersections throughout Prince Edward Island to maximize safety and traffic flow. Roundabouts reduce the need for traffic signals and help ensure traffic moves efficiently during both peak and off-peak traffic periods.
How do I get through a roundabout?
As you approach the roundabout, slow down and yield to traffic already circulating. When there is a gap on your left, enter the roundabout turning right. Do not stop once you are inside the roundabout. Follow the circle until you reach your exit. 
A narrated video demonstrates the proper way to use a roundabout. To start the narrated video, click on the roundabout image on this page or go to Using a Roundabout Video. This video requires a Flash Player(link is external).​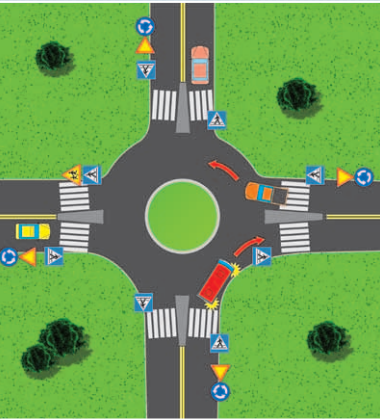 The City of Charlottetown also provides information about roundabouts at Allen Street/Mt. Edward Road and at Belvedere/Mt. Edward Road in Charlottetown.