Changing our future by exploring PEI's past
Today, over 100 people gathered for the PEI's Famous Five 25th Anniversary Conference to celebrate the remarkable milestone that PEI's Famous Five made to provincial and national history 25 years ago.
In 1993, five Island women held the most influential seats in government. At the time, the Honourable Marion Reid was the first female Lieutenant Governor of Prince Edward Island, the Honourable Catherine Callbeck was PEI's first female Premier, Nancy Guptill held the position of Speaker of the House, the Honourable Elizabeth Hubley was the Deputy Speaker and Pat Mella was leader of the Official Opposition. Each and everyone of these women continue to make invaluable contributions to their communities and to the Province of Prince Edward Island.
The full day event at the University of Prince Edward Island campus featured PEI's Famous Five and celebrated their individual and collective contributions to our living political history. After engaging panel discussions by PEI's Famous Five and UPEI's student leaders, participants from all walks of life took part in an interactive forum.
"It was incredibly powerful and inspirational to hear trailblazers like PEI's Famous Five speak. It is also a reminder that this milestone has not been repeated since," said Paula Biggar, Minister Responsible for the Status of Women. "We are listening to Islanders and are working to create an enduring gender-balanced society where equal opportunities are accessible for everyone".
"To be given the opportunity to speak at an event celebrating women in leadership, is an honour and one I fully appreciate," said Emma Drake, UPEI Student Union Vice-President Academic & External. "We must acknowledge not only the success that we have had in the past, but also how we can learn from it and take it with us moving forward, in each of our leadership roles as we shape the future."
The day's events were jointly organized by the Interministerial Women's Secretariat, The Coalition for Women in Government and the University of Prince Edward Island. 
---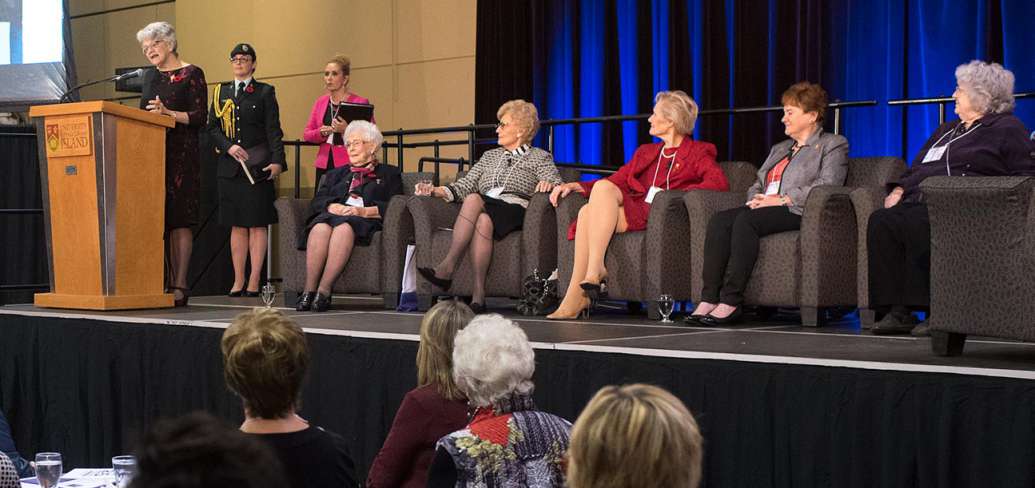 Lieutenant Governor's Address
Honourable Paula Biggar, President Abd-El-Aziz, Elder Judy Clark, PEI's Famous Five - good morning everyone.
I wish to begin by acknowledging that the land on which we gather is the traditional homeland of the Mi'kmaq First Nation.
What a privilege and an honour it is to join you in celebrating the 25th Anniversary of PEI's Famous Five.
C'est un privilège et un grand honneur d'être parmi vous ce matin pour la Conférence du 25e anniversaire du Club des cinq de l'Î.-P.-É.
When I see women networking to empower and inspire each other, it brings back fond memories of witnessing my mother, Anne Marie Perry, doing just that, over and over again. It also conjures up a feeling of gratitude that I was so fortunate to be empowered and inspired by this amazing trailblazer from Tignish who seized every opportunity to help. She would say that she became engaged not to receive accolades, but to help if she had the ability and time to help. To be honest, she always made the time, even if it was to refer the request to someone else. I guess you could say that she was a connector. She enabled many women but she also was a role model and mentor extraordinaire who never missed an opportunity to give that much-needed nudge to me and my six sisters.
Upon my installation as Lieutenant Governor of PEI, I realized the magnitude of her impact on me.
Quelle occasion parfaite pour reconnaître ces femmes leaders qui ont démontré un leadership féminin comme on n'avait jamais vu auparavant à l'Île et qui ne s'est jamais reproduit depuis. Aujourd'hui, on a la chance d'en apprendre davantage de ces dames distinguées qui nous partageront sûrement des conseils valables qui nous permettront de trouver des voies possibles à suivre pour un futur équitable. 
And here, before me, I see five impressive models of exemplary service and extraordinary mentors – intellectual, influential, inspiring, motivating and stimulating - who accepted the challenge of working in public office; and I do not use the word challenge lightly.  You continue to be a source of inspiration for me and I cherish every encounter with you because you have a habit of gifting me with so many pearls of wisdom. I hope you realize the impact you continue to have on so many people and especially on girls and women.
I stand before you today with a spirit of gratitude for mentors like you who continue to guide me and others on our journeys to leadership. Through your example, you effectively convince us that anything is possible. You have a way of seeing the possible, the positive.
As Melody Beattie clearly expresses her thoughts on the concept of gratitude, "gratitude unlocks the fullness of life. It turns what we have into enough and more. ….Gratitude turns negative energy into positive energy..." She then adds, "Today, I will shine the transforming light of gratitude on all the circumstances of my life."
I truly believe that gratitude is a transformative word. As we listen with a spirit of gratitude to your pearls of wisdom, I am certain that we will feel the transformative power of that simple word.
Au nom de Sa Majesté la Reine, je vous souhaite mes sincères félicitations ainsi que mes meilleurs vœux.  Veuillez accepter ma reconnaissance pour votre contribution inestimable aux Insulaires.
On behalf of Her Majesty The Queen, I offer you my sincere congratulations and best wishes. With heartfelt gratitude, I wish to acknowledge your invaluable contribution to Islanders and the pursuit of equality in all things.
Delivered by Her Honour Antoinette Perry, Lieutenant Governor of Prince Edward Island
Media contact:
Vicki Tse
Interministerial Women's Secretariat
vickitse@gov.pe.ca  
Nicole Phillips
University of Prince Edward Island
nphillips@upei.ca