Evangeline keeps the streams clean
As a non-profit organization, the Evangeline Community Pasture provides communal grasslands where its members can graze their livestock during the summer months. As an Alternative Land Use Services (ALUS) participant, the group produces ecosystem services, like cleaner air, cleaner water and more biodiversity, that benefit everyone in the province.
The Evangeline Community Pasture is located near the community of Wellington. It amounts to 600 acres (about 240 hectares) of grazing lands and can accommodate 700 head of cattle.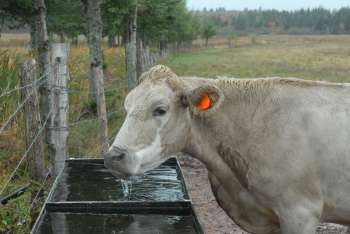 The group decided early on to keep members' cattle out of the wetlands and streams running though the community pastures. They also implement environmentally sound pasture-management techniques, such as rotation and non-tillage.
Today, the community pasture maintains a total of nearly 12 kilometres of riparian fencing that  prevents pastured livestock from watering directly in streams and wetlands, along with five gravity-powered stations watering stations, two solar-powered stations and another two watering sites that utilize well water.
"It is important to us to protect water quality for fish and communities downstream," said Melvin Gallant, pasture manager. "We would not be able to maintain these stream-protection projects on our own: financial assistance from the PEI ALUS program is appreciated."
The PEI ALUS program assists the community pastures with an annual payment to help cover the cost of ongoing management and maintenance of these alternative watering systems, resulting in better wildlife habitat and cleaner water for the community at large.
Having pioneered the idea of restricting livestock's access to sensitive streams and wetlands, Evangeline Community Pasture was instrumental in having the practice adopted province-wide. PEI is the first—and remains the only—province in Canada to have completely eliminated livestock's access to waterways. In honour of their significant accomplishments, Evangeline Community Pasture was awarded the 2002 Soil Conservationist of the Year Award by the PEI Soil and Crop Improvement Association.
"We are very proud of what we have accomplished in our pastures," said Gallant.
Learn more about Alternative Land Use Services