Island women to take part in United Nations Commission
As a young feminist growing up outside O'Leary, Jillian Kilfoil never dreamed she would be invited to share her perspectives on gender equality and women's empowerment with an international audience.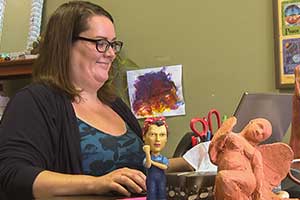 But Kilfoil -- now the executive director of Women's Network PEI -- will have that opportunity as part of a Canadian delegation heading to New York for the United Nations' Commission on the Status of Women meetings March 12 to 16. Full details of the agenda can be found at http://www.unwomen.org/en/csw.
Today (March 8) is International Women's Day.
"Growing up in a rural area has shaped my identity and work in many ways, since rural communities face many challenges and rural girls and women face particular realities," she said. "I am grateful to be able to share my lived and professional experiences in a global context.  The opportunity to connect with passionate feminists from around the world will be an once-in-a-lifetime opportunity."
The priority theme for this year's UN commission on the Status of Women meetings is "Challenges and Opportunities in Achieving Gender Equality and the Empowerment of Rural Women and Girls." Prince Edward Island's Status of Women minister, Hon. Paula Biggar, will also attend.
"Prince Edward Island's small size is a strength because it allows us to focus on what matters the most, such as the work we have done to increase equality and empowerment in this province," Minister Biggar said. "I look forward to sharing this work with an international audience and to productive discussion and positive opportunities to advance women's rights around the world."
While at the meetings, Minister Biggar will also recognize the 25th anniversary of Prince Edward Island's "famous five" – a time in Island history when five of the most senior positions in government were held by women. The provincial government will organize events throughout the year to commemorate the anniversary. More details will be announced at a later date.
Media contact:
April Gallant
aldgallant@gov.pe.ca
Backgrounder
The Prince Edward Island famous five are:
The Honourable Marion Reid, former lieutenant-governor of Prince Edward Island;
The Honourable Catherine Callbeck, former premier of Prince Edward Island;
Pat Mella, former leader of the official opposition;
Nancy Guptill, former speaker of the Legislative Assembly; and
The Honourable Elizabeth (Libbe) Hubley, former deputy speaker of the Legislative Assembly.