Minister Doug Currie announces departure from public life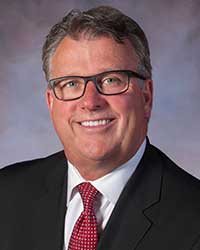 Education, Early Learning and Culture Minister Doug Currie, MLA for District 11 Charlottetown-Parkdale, today announced he is leaving provincial politics after 11 years of elected public service.
As an MLA, Minister Currie served in five ministerial roles, providing leadership in numerous key areas such as health, education, early childhood development, social services, the Office of the Attorney General, justice, culture, and labour.
"After more than a decade in public life I have decided it is time to begin to explore other opportunities," he said. "I have had the honour of serving in multiple departmental capacities in times of transformation and positive change. I leave with a heavy heart, but know that the time is right for me to move on.
"On a personal level, my daughters were 5 and 7 when I entered public life; today Hallie is a first-year university student and Casey is in Grade 11. I am truly looking forward to being an even more engaged parent as they enter such formative stages of their lives."
Minister Currie's resignation is effective today. Premier Wade MacLauchlan recognized the many contributions and leadership of Minister Currie.
"Minister Currie's leadership and strong commitment to Islanders, including residents of Charlottetown-Parkdale, has benefitted our province tremendously, touching on almost every aspect of Island life," said the premier. "My colleagues and I thank him for his passion and contributions to our province and his community. Over the years we have come to admire his daughters and Minister Currie's commitment to them; public life is a family endeavour and we wish all of them well in their future successes."
Minister Currie entered public life in 2007. As minister of Health, Social Services and Seniors, he led a governance review and the establishment of Health PEI which focused on improving the delivery of health services across Prince Edward Island.

From 2009 to 2011, as minister of Education, Early Learning and Attorney General, he oversaw the introduction of full-day publically funded kindergarten in Island schools and the implementation of the Preschool Excellence Initiative, a provincial model which made Prince Edward Island a national leader in early childhood development.
Beginning in 2011, Currie served as Minister of Health and Wellness and Minister responsible for Sport and Recreation. Under his leadership, a provincial Mental Health and Addictions Strategy was developed, a new Youth Addiction Facility was opened, as well as PEI's first Youth Mental Health Day Treatment Centre.
During this time significant investments were made in Primary Care, Emergency Services and public manor replacement. A Catastrophic Drug Program and an Under 65 Generic Drug Program were introduced and significant enhancements were made to several provincial drug programs.
In January 2016, Minister Currie was sworn in as Minister of Education, Early Learning and Culture. During this time he led a reorganization of the department, created the Public Schools Branch and established new advisory councils to give all partners opportunity for input into public education.

Following a School Review in 2017, action was taken to address overcrowded and under-utilized schools. Student Well-being Teams were established in the school setting, supports were added for immigrant students, significant enhancements were made to school facilities, and a provincial cultural strategy was developed. During this time, Minister Currie was the lead Minister and Chair of the Council of Ministers of Education Canada (CMEC), and lead minister in the development of a National Early Childhood Framework.