PEI farmers have embraced the ALUS program
Charles Murphy is no stranger to agriculture. For 50 years, he has been growing seed potatoes, wheat and non-GMO soybeans in China Point, east of Stratford.
Since the arrival of the first Murphy family ancestors from Ireland in the early 1800s, six generations have farmed this land. Charles and his wife Wilhelmena purchased the family farm in 1972. Their sons, Randy and Francis have since become part of the family business. The grandchildren are poised to become the seventh generation to continue the family tradition.
Murphy played a prominent role in developing the Alternative Land Use Services Program (ALUS) in PEI a decade ago, having served as member of the program's initial advisory committee in 2008.
"To my mind, there is a strong case for the ALUS program as the most innovative way to help reduce the footprint of modern agriculture on the natural environment. ALUS is certainly helping us do more for wildlife and the environment on our farm," said Charles Murphy.
Specifically, ALUS helps the Murphy's maintain nearly five acres (2 hectares) of grassed waterways and other soil-conservation structures in fields to reduce soil erosion, as well as 52 acres (21 hectares) of expanded buffer zones for wildlife habitat, far beyond the 15 metres required by provincial legislation.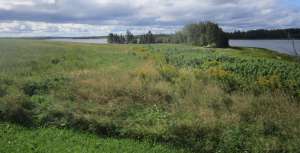 One of these ALUS buffer zones serves to separate the working areas of the farm from the Seal River, a major waterway that flows into Orwell Bay. Tidal and brackish of this area is an important staging area in the fall for migratory birds, especially waterfowl. Likewise, it is important economically for PEI's commercial fish and shellfish industries. 
With more than 1,600 feet (500m) of shoreline, 65 feet (20 metres) has been added to the width of the mandated 50-foot (15m) buffer zone. This buffer zone project helps to prevent soil runoff into the water, which would have negative impacts on birds and aquatic wildlife.
"By implementing set-asides like expanded buffer zones, we are seeing more wildlife using these areas, and specifically more eagles, ospreys, hawks, owls and coyotes," added Murphy.
Over the years, this farmer has seen many changes in agriculture. He noted that when he was young, he drove horses with his father. Today, he and his sons drive equipment controlled by computers and satellites from outer space. 
"The only constant – is that water still runs downhill, and it will take your soil with it if you are not careful. Take care of your soil and the soil will take care of you." 
Murphy is not surprised that PEI farmers have embraced the ALUS program given that "the provincial economic engine is agriculture. ALUS helps share some of the costs of environmental-stewardship actions that farmers need to take for the good of the community."
ALUS encourages farmers to devote some of their land, skills and time to produce ecosystem services, such as cleaner air, cleaner water, more biodiversity and more pollinators, in step with their production of quality farm crops for the table.