Their yogurt may be sheepish, but these farmers aren't
Creating jobs for Islanders -
Gabriel Mercier knows better than most that necessity is the mother of invention.
As a new Prince Edward Island farmer, Mercier and his wife Deirdre Doiron have had to work hard to grow her father's 26-acre farm Ferme Isle St. Jean in North Rustico. Their solution? Bring in 125 sheep and 170 lambs. Mercier used his grandfather's master cheesemaker skills learned while growing up in Quebec to turn the sheep's milk into popular cheese and yogurt. Now the family (they have two young sons) are the only farmers in the Maritimes making sheep's milk yogurt.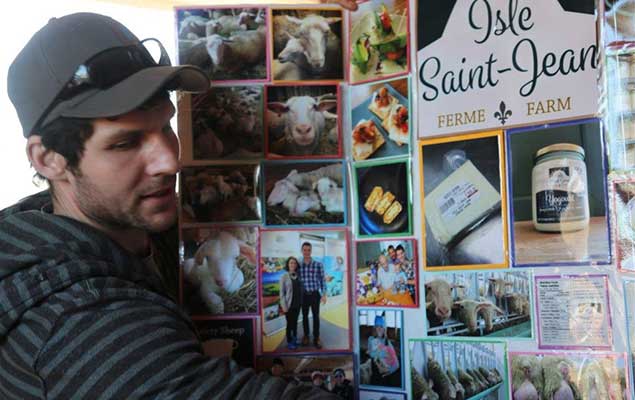 "It's well-known that the small guys innovate because they have to," Mercier says with a grin.
Customers to their retail store, which opened on the farm last summer, can purchase cheese, yogurt, wool and meat from their animals - lamb sausages, chops, and ground lamb from Island Taylored Meats - while viewing the operation through a window.
"When you are a young farmer and you are investing time and money,  you appreciate any break you can get."
Mercier has been pleased to grow with support from the Prince Edward Island government. They first received a $25,000 grant from the Ignition Fund in 2014, and now with a tax break and investment grant announced for small businesses in the government's balanced 2018-19 operating budget they will be able to continue to invest in their business.
The shop has a rustic, authentic feel inspired by multiple generations. The sign was painted by Mercier's 9-year-old niece, and the cheeses are named after their ancestors; the aged cheese is Gabriel's grandfather Patrick Mercier, and the sheep's milk grilling cheese is called Alexis Doiron, Deirdre's ancestor and the first Doiron to settle in Rustico in the late 1700s.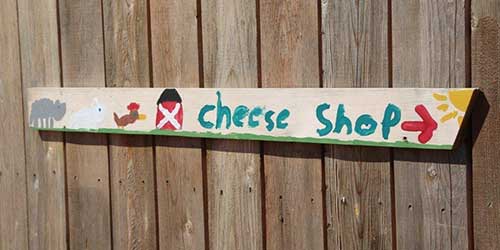 Mercier also sells their products to farmers' markets and local restaurants and retailers, and Chef Michael Smith even serves it at the Inn at Bay Fortune. They're also exploring options for partnerships with other farmers.
They've seen success in a relatively short time. Their flock of sheep arrived in on the Island in February 2015, and last spring they installed a new, automated milking parlour which allows them to collect the milk while up to 24 sheep are fed.
Last year they planted 300 spruce trees, and they'll plant more this year so the sheep can graze in the shade. More than 400 people showed up to their farm on Open Farm Day.
"It was packed," Mercier said. "We like to help people to make that connection between farming and food."
In addition to the Small Business Investment Grant and Small Business Tax Cut announced in the recent budget, government is working in partnership with the agriculture and food industry to invest in the expansion and diversification of crop and livestock production in the province. Under a new, five-year federal-provincial agreement, the Canadian Agricultural Partnership, a total of $164 million will be committed to programs focused on markets and trade; science; research and innovation; risk management; and value-added agriculture and agri-food processing. 
Learn more about the ways that government is
supporting small business
to grow and thrive, and to re-invest in their enterprise.