Tree growers take it one season at a time
Christmas tree grower David Smith is used to planting for the future.
Each year he plants a new crop of trees, knowing that he won't see the results of his efforts for 15 years. Although planting and cutting the trees only happens once, each tree represents years of labour; including pruning once a year for six or seven years to ensure it grows to the perfect shape.
When it's time to harvest, a Christmas tree grower's schedule goes into overdrive for one solid month. "It's a good business," Smith muses. "People are mostly in pretty good humour at Christmas time."
Island Christmas trees and wreaths are known for their quality, colour and fragrance. Producers grow evergreen Christmas trees and make wreaths for local stores. They also export to markets in Canada and New England.
Some growers also specialize in U-cut operations, and they welcome Islanders to visit and select the perfect locally grown Christmas tree in its natural environment. Visitors to tree farms get the full experience of picking and cutting their own tree, enjoying hot chocolate and cookies, and sometimes even getting their picture taken in a seasonal photo booth.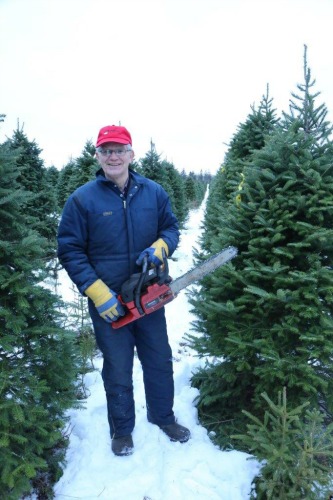 Smith's company has shipped trees to the Caribbean in the past, but now local sales are enough to keep the business closer to home. The first and second weekend of December is Smith's busiest of the year at his Mayfield farm, where his grandchildren will be on hand serving hot chocolate and cookies for tree shoppers. Smith will also sell trees to many Island families from his coveted location in the Canadian Tire parking lot in Charlottetown.
How did Smith get into the business?
Well, about 40 years ago the provincial government was encouraging Islanders to consider Christmas tree farming after seeing the successes in New Brunswick and Nova Scotia. As it happened, Smith was sitting on some land that was perfectly suited for growing evergreens. After a trip to a New Brunswick farm he started planting balsam fir.
A decade later Smith sold his first Christmas tree for $10. Today he has 80 acres with about 120,000 trees growing on his property. He employs his son Kevin Smith and Donald Doiron, who has been with the business since its inception. David Smith says Doiron works the Canadian Tire location where his great people skills are always appreciated.  
"He has a lot of patience," Smith joked. "That's why they keep me in the woods."
Originally published December 7, 2016