Wearing Non-Medical Masks in the Community
Face masks are required in all indoor public spaces in Prince Edward Island.
Wearing a mask in the community is not a substitute for physical distancing and hand washing. It is an additional measure to protect you and those around you, even if you don't have symptoms.
Students and staff should consult guidelines for wearing masks and personal protective equipment in schools.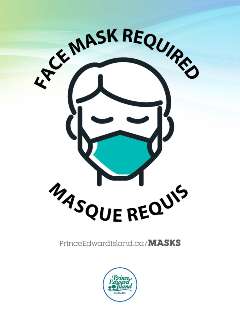 Frequently Asked Questions
Where do masks need to be worn?
Masks are mandatory in all enclosed public spaces in Prince Edward Island including:
Retail businesses, shopping centres, buildings or rooms of businesses where services are provided to the public
Restaurants or drinking establishments (except when drinking or eating)
Places of worship and faith gatherings
Arts, cultural, entertainment venues
Sports and recreation facilities (except during physical activity)
Spaces used to hold events, including conferences, conventions and receptions
Government buildings that provide public services
Common areas in office buildings and tourist accommodation establishments, such as lobbies, reception areas, elevators, stairwells
Common areas on university or college campuses
Bus stations, ferry terminals, airports
Public transit, public passenger vehicles, taxis
Schools, licensed child care centres, and healthcare facilities are not included in the above list and will continue to follow sector or organization specific operational plans as approved by the Chief Public Health Office
Why is it mandatory to wear a mask in public spaces in PEI?
Masks are effective in helping to reduce the spread of COVID-19 particularly when combined with other important health measures, such as:
physical distancing
hand washing
staying home when not feeling well
keeping your circle of contacts small
disinfecting frequently touched surfaces
If I am wearing a mask, do I still need to stay 2 metres away from other people?
Yes. Masks are not a substitute for our other important public health measures such as physical distancing. Masks are an added layer of protection.
People must continue to practice the basic public health to prevent the spread of COVID-19. These include physical distancing, hand washing, staying home when sick, disinfecting frequently touched surfaces, keeping your circle of contacts small and limiting contact with people outside your household.
Are masks still required if physical distancing can be maintained or barriers are present?
Yes, masks are still required, even when physical distancing can be maintained or barriers such as plexiglass are present. Masks are an important added layer of protection which supplement other public health measures but do not replace them.
Who is exempt from wearing a mask?
Some people are unable to wear masks for various reasons. In some cases, these reasons may not be visible to others and people are not expected to produce proof of exemption. We should always treat each other with kindness, respect and understanding.
Exemptions include but not limited to, the following:
Children under the age of 2
Children between the ages of 2 and 5 who cannot be persuaded to wear a mask
Anyone who cannot remove a mask without assistance
People with a valid medical reason (most people with underlying medical conditions can indeed wear a mask safely)
During some treatments, services or physical activity
When eating or drinking
It is especially important that people unable to wear a mask practice physical distancing, wash or sanitize hands frequently and get tested if unwell. It is also recommended that people unable to wear a masks, avoid crowded places and large gatherings as much as possible.
Is it necessary to wear a mask while participating in organized sports or physical activity?
Masks are not required while participating in an organized sport or physical activity, but they must be worn at all other times, including between practices and games.
How does the mask mandate apply to the wedding party at wedding ceremonies?
Members of a wedding party may remove their non-medical masks during a wedding ceremony in some circumstances, as follows:
Members of the wedding party may remove masks while walking down the aisle, provided the people walking down the aisle are not interacting with members of the audience, and
Members of the wedding party may remove masks at the front of the church during the service, provided they are physically distant from the audience.
Are masks required at places of worship and faith gatherings?
Masks are required for indoor faith gatherings and services at places of worship even if physical distancing can be maintained throughout the activity, event or service.
Parishioners must wear masks while singing because it is a high risk activity
Performers or officiants such as ministers and readers can choose to remove their mask while talking or singing. In such instances the officiant or performer should use a microphone to project their voice to reduce the risk of respiratory droplets being spread.
Whenever possible, the officiant or performer should stand at least 4 metres (12 feet) from the attendees.
If there is more than one performer or officiant, they should be spaced at least 2 metres (6 feet) apart and should not face each other.
Is it necessary to wear a mask while performing, including singing or playing wind instruments in an indoor public place?
Individual performers are not required to wear masks in the course of performing activities requiring vocalization, such as talking or singing. This applies at: social events; arts and culture events; sports and physical activities; and weddings, funerals and other faith gatherings.
For higher risk activities, including cheering, whistling, singing, and other vigorous vocalization, distancing of 4 metres (12 feet) between performers should be in place. These activities are considered higher risk due to increased chance of expelling drops of liquids that could contain COVID-19.
For small consistent performance groups, where there would be close contact/singing:
While performing, masks are strongly recommended (but not required);
While rehearsing, masks are required (except during physical activity); and,
Physical distancing is encouraged whenever possible, and the Organized Recreation and Team Sport guidance must be followed.
For large performance groups (such as choirs), masks are required when rehearsing and performing.
Masks are not required to be worn by individuals playing wind or brass instruments while performing or rehearsing in public places, however they must be worn at all other times.
Are masks required for audiences at gatherings such as meetings or concerts in indoor public places? Can people take off their mask once seated at a gathering?
Masks are required for gatherings at indoor public places. Attendees are required to wear masks throughout the activity even if physical distancing can be maintained. Masks can be removed during eating or drinking.
If I work in a place the public cannot access to such as a kitchen or a private cubicle, do I need to wear a mask?
If the area in which you are working is not open to the public, including private office buildings and cubicles or kitchen spaces that are not accessible to patrons, wearing a mask is not mandatory. However, even in private workplaces, masks are strongly encouraged, particularly when physical distancing cannot be maintained.
How is the mask policy enforced?
We are taking a cooperative approach to enforcement, relying on Islanders to make good decisions to protect themselves and others from COVID-19. Wear a mask to protect our Island community.
What is the role of businesses and operators in helping to enforce people wear a mask
The operator of a business or public space should ensure that every person who is not wearing a mask while on the premises is provided with a single verbal reminder to do so as soon as possible following entry. The primary objective is to educate and inform, and gain voluntary compliance. We would not advise businesses to risk the safety of their staff to enforce the rule.
Some people cannot wear masks for medical reasons and sometimes the reasons are not visible. Islanders, including business owners and staff, are encouraged to be kind and show compassion and understanding.
These masking rules set a minimum standard for businesses in PEI but some may choose to follow stricter rules. Businesses are discouraged from refusing people entry who say they are exempt from wearing a mask and should not ask for proof of exemption.
Businesses and operators should update their operational plans to include the requirement for masks on the premises but it is not necessary to resubmit the plan.
Businesses and operators are also encouraged to download this sign provided by the Chief Public Health Office, or produce their own, and display it on the premises.
What is a non-medical mask?
Non-medical masks can be homemade or commercial. Non-medical face masks should:
Be made of 3 layers of tightly woven material fabric (such as cotton or linen); where possible, the (middle) layer should be a filter-type fabric, such as non-woven polypropylene fabric*
Be large enough to completely and comfortably cover the nose, mouth and chin without gaping
Fit securely to the head with ties or ear loops
Allow for easy breathing
Be comfortable and not require frequent adjustment
Be changed as soon as possible if damp or dirty
Maintain its shape after washing and drying
Some masks include a pocket to accommodate a filter, for increased benefit.
If possible, use different fabrics for each side of the mask, so you know which side faces your mouth and which side is out.
*Guidance from the Public Health Agency of Canada recommends 3-layer masks. At this time, Islanders should continue to use their 2-layer masks. As we replace our masks, we should purchase 3-layer masks.
Non-medical masks should not:
Be placed on children under the age of 2 years
Be placed on anyone unable to remove them without assistance or anyone who has trouble breathing
Be made exclusively of materials that easily fall apart, such as tissues
Have exhalation valves
Be secured with tape or other inappropriate materials
Be shared with others
Be allowed to hang from your ears
Be placed under your chin
Impair vision or interfere with tasks
Can I wear a face shield, spit guard, or another mask alternative?
No. Alternatives—including face shields, spit guards, gaiters, scarves—are not as effective at preventing the transmission of viruses as non-medical masks. Face shields and spit guards do not effectively contain the spray of respiratory droplets. Neck gaiters and scarves aren't well secured to the head or ears, and are difficult to remove without contaminating yourself.
In some instances, face shields can be worn in addition to non-medical masks, as an added layer of protection. Service providers that require their client's face to be uncovered (eg. facials, dental procedures) should consider eye protection, such as a face shield, in addition to a mask.
Should I wear a mask with an exhalation valve?
No. Masks with exhalation valves are not recommended. These masks do not protect others from COVID-19 or limit the spread of the virus. This is because they allow infectious respiratory droplets to spread outside the mask.
Face shields, spit guards, gaiters and scarves are not substitutes for non-medical masks.
How do I put on a non-medical mask or face covering?
Ensure the face covering is clean and dry, and free of tears or holes.
Whenever possible, wash your hands with warm water and soap for at least 20 seconds or use hand sanitizer with a 60-80% alcohol base.
Ensure your hair is away from your face.
Place the face covering over your nose and mouth and secure to your head or ears with its ties or elastics. Adjust, if needed, to ensure nose and mouth are fully covered. The mask should fit snugly to the cheeks and there should not be any gaps.
Repeat step 2.
While wearing a non-medical mask or face covering, it is important to avoid touching your face. If you do touch your mask or face, you should immediately wash your hands with warm water and soap for at least 20 seconds. You can also use hand sanitizer with a 60-80% alcohol base.
Masks and face coverings are only effective if worn properly. Uncovering your nose or mouth while wearing one:
Eliminates any protection it may offer
Allows you to breathe in and exhale potentially infectious respiratory droplets
How do I remove a non-medical mask or face covering?
Whenever possible, wash your hands with warm water and soap for at least 20 seconds. If not available, use hand sanitizer with a 60-80% alcohol base.
Remove the face covering by un-tying it or removing the loops from your ears. Avoid touching the front of the mask when removing it. It can be placed in a plastic bag temporarily if possible (make sure you close or zip seal the bag while storing it).
If you plan to reuse the mask, wash it before wearing it again. It can be washed with hot, soapy water, or it can be washed with your other laundry.
After removing the face covering, repeat Step 1.
You should try to reduce the number of times you take your mask off and put it back on. If entering and exiting multiple indoor spaces where masks are required, consider leaving your mask on for the duration of your outing.
It is important to keep your mask or face covering clean when not in use, or when eating or drinking. Store it in a clean paper or cloth bag until you put it on again. Soiled masks or face coverings should be placed in a secure, waterproof bag or container until they can be washed in the laundry.