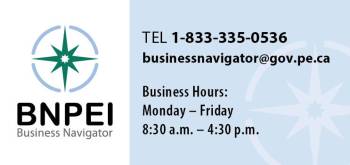 The Business Navigator provides personalized support to help you navigate your business toward growth and success, by helping business owners and entrepreneurs navigate the various provincial regulatory challenges associated with starting, owning, operating, and growing your business. As a centralized point of contact for Islanders, the Business Navigator:
will address questions you have about your business;
will help you navigate the regulatory landscape within PEI;
will help you find and access resources; and
uses a formal network of partners who can support you.  
How can the Business Navigator help?
The role of the Business Navigator is to ensure you are connected with the right resources and information to help you make decisions regarding your business. Once the clients' needs are understood, the Business Navigator will use their network to find answers to topics such as business registration, inspection requirements, permits, licenses, and more.
Who does the Business Navigator work with? 
The Business Navigator works directly with new and existing small and medium-sized business' Island wide, using a case management approach and a network of partners to answer client needs.
What is the Red Tape Challenge?
The Red Tape Challenge is an opportunity for you to provide feedback to Government with the goal of making it easier to do business with Government. We'd like to ask for your help on how we can cut red tape to serve you better!  Learn more here!
How can I contact the Business Navigator?  
Please complete the Business Navigator Intake Form and a Business Navigator will contact you in a timely manner. To learn more about the Business Navigator, visit: Meet PEI's first business navigator.
Business Navigator
Alicia Birt
Toll free:  1-833-335-0536
Email:  businessnavigator@gov.pe.ca
Business Hours: Monday to Friday, 8:30 a.m. – 4:30 p.m.