Stacy MacInnis remembers bundling up on cold winter mornings when he was five years old and going next door with his mother to stoke the coal stove for waiting passengers at the Elliott family's train station in Pleasant Valley.
Fast forward more than 50 years – it's a summer day and MacInnis, now 59 and his mother gone, has moved the station to his own homestead in Burlington where the Woodleigh Replicas once stood.
While repairing a part of the coal room wall, he spots his grandmother's name among the many names carved into the tinder-dry wooden board.
"It hit me, I felt like I was saving a piece of heritage and creating a stronger connection with my ancestors," MacInnis said.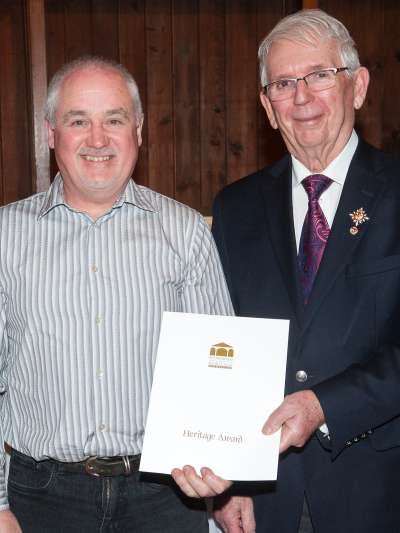 MacInnis was one of several Islanders and groups awarded with a 2016 Heritage Award for his restoration of the 1888 station.
"I did it as a labour of love, I didn't expect any reward for it," he said.
Not every train station was a grand piece of architecture. The so-called flag stops, like the one at Elliotts Station, were very simple structures. Like many of its kind, when the Elliotts station was decommissioned in the 1960s, it was moved to a local farm to take up a new life as an outbuilding. That's the end of the road for most buildings like this, and after fifty years as a storage shed, the old flag stop had deteriorated to where it was barely recognizable -- ready for demolition.
But the old Elliotts station always held a fascination for MacInnis. In 2014, he bought it and arranged to have it moved to his property in Burlington. There he brought it back to life, with new roof and shingles, but its original door and windows. The Heritage Award was recognition of his efforts to restore this small, but important example of both our railroad and architectural heritage.
The Elliott family was a staple of Pleasant Valley in days gone by. They had a wood mill, a grist mill, and a pond at the flag stop where the station stood. In winter they cut large chunks of ice from their pond to package in sawdust and ship by train to Charlottetown ice boxes in the days before electrical refrigeration.
The train station has two rooms, one waiting room where benches line the walls and sliding doors into a coal storage room.
MacInnis plans to showcase his photography and display train artifacts to make it feel like a little museum. He has painted the rusty red shingles to their original color.
His mother, Cecilia MacDowell, who tended its fires all those years ago, died six years ago at the age of 90, before MacInnis even got the idea to restore the station.
"She thought it was such a shame it was falling down," he said. "She would have laughed to see it now."
For a full list of 2016 Heritage Awards Winners visit the PEI Museum and Heritage Foundation.