Port expansion is great news for all of PEI
The anticipation of seeing your next port of call approaching through the window is something cruise ship passengers remember long after they return home.
A $14.1 million expansion coming to the Port of Charlottetown will help ensure more seagoing visitors leave the boat and venture onto the red soil of the Island each year. The expansion will also help boost the economy throughout the province.
"This investment says a lot – it's exponential in terms of growth," said Mike Cochrane, Chief Executive Officer of the Charlottetown Harbour Authority.
The province is committing $4 million to this important infrastructure expansion project. The three-way investment from the provincial and federal governments, and the Charlottetown Harbour Authority, will allow two 350-metre vessels to dock at once, eliminating the need for the second cruise ship to ferry its passengers in from the harbour.
"It is clear that both levels of government see the high value of this important investment," says Stan MacPherson, Chair of the Charlottetown Harbour Authority. "With investments in recent years this has become a really attractive part of the Charlottetown waterfront. It will just keep getting better now."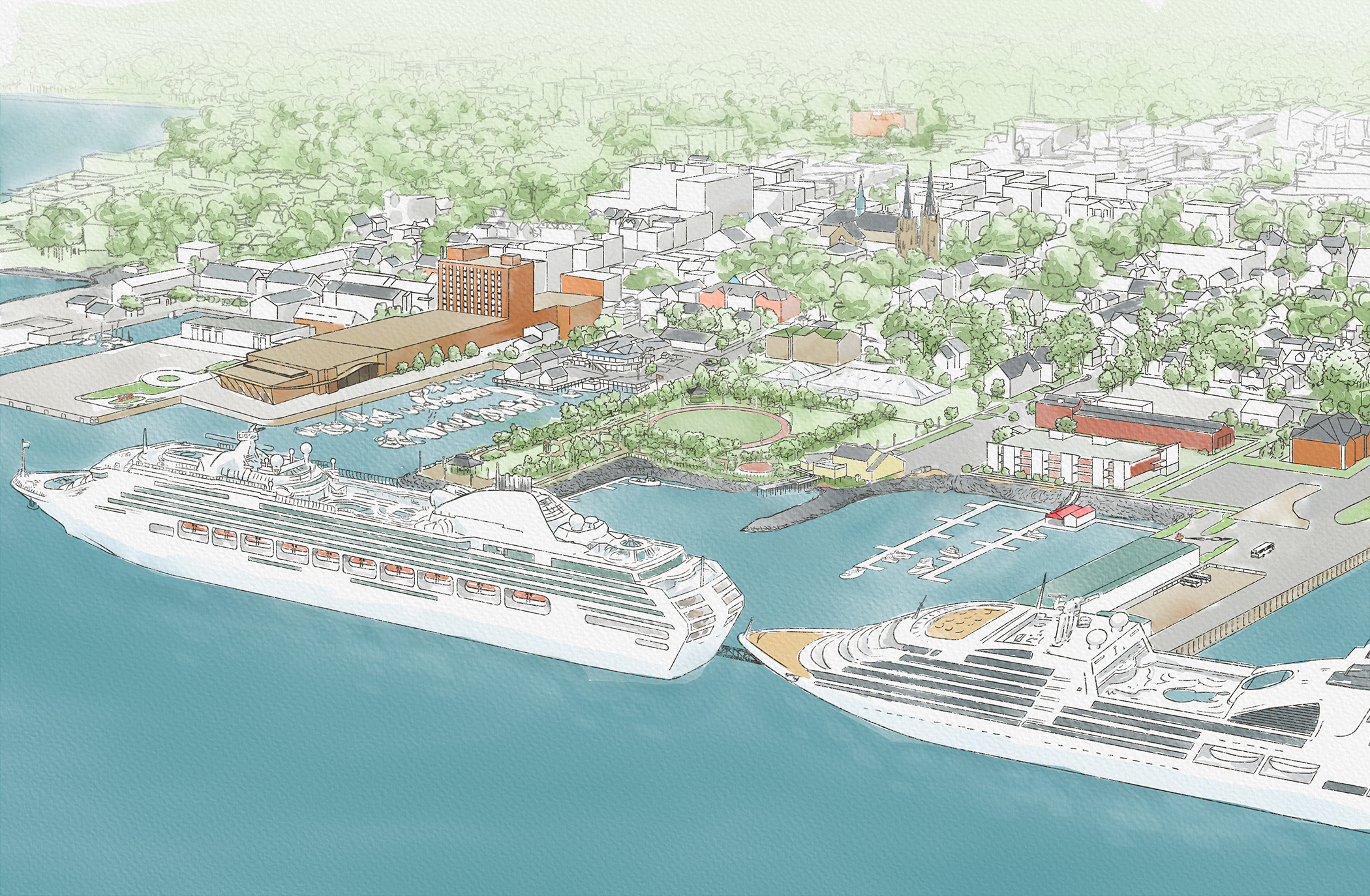 The project – set for completion in fall 2019 – will mean more cruise ship passengers coming ashore than ever before. Last year 90,000 cruise ship passengers visited the province, with an anticipated 110,000 this year and 150,000 predicted next year.
Half of the passengers will walk around Charlottetown looking for places to eat, visit and shop, and the other half will go on land excursions across the Island.
"The rural benefit is a big deal," MacPherson said. "They all eat somewhere and they all spend their money. The average cruise ship passenger spends $100 in each port."
There's also an economic benefit in the form of commercial shipping. When there aren't two cruise ships docked at the same time, a commercial ship can also dock there, thanks to the expanded port. It will mean $16.5 million savings for Islanders from cheaper fuel, fertilizer, and gravel.
"Every drop of fuel that comes to PEI comes through this port now," MacPherson said. "With this expansion we can take a cruise ship and a commercial ship at the same time. This will make things more harmonious and great for scheduling."
"This project is another example of not just our strong intergovernmental relationship but also of our provincial government's commitment to keep our economy growing," said Prince Edward Island's Transportation, Infrastructure and Energy Minister Paula Biggar. 
"To say that this expansion is great news would be an understatement; it will bring many economic benefits to Islanders, but most of all, it means more opportunities to share with the world why Prince Edward Island is the Mighty Island."