There are many groups, organizations and individuals working across Prince Edward Island to help people just like you with your wellness goals. Here you will find helpful information about wellness programs, motivational stories about Islanders and other resources.
1. Be physically active
The PEI Wellness Strategy indicates that one in two Islanders is considered inactive. Whether you are eight or 88 years-old, take the first step today to get active and stay active for life. Contact your municipal parks and recreation department or go!PEI about places, programs and events in your area.
Snowshoes can be borrowed from most library branches across PEI with a library card. The loan period is one week.
2. Quit smoking
Find the support you need to quit smoking . The PEI Smoking Cessation Program and the Smokers' Helpline can help.
3. Make mental health matter
Mental health impacts us all. Positive mental health is an individual's or family's capacity to feel, think and act in ways that enhance our ability to enjoy life and deal with the challenges.
The earlier children and youth develop resilience to life's challenges and a positive attitude, the more likely they will benefit from lifelong mental well-being.
Recommended Mental Health Resources
4. Eat healthy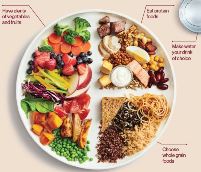 Making good food choices at home, at school and when you're out and about in the community is part of healthy living. Good food allows you to be physically active, develop healthy bones and prevent health problems. There's also the fact that learning to cook and prepare healthy food creates a connection to where our food comes from and helps stretch your food dollars.
Eat a variety of healthy foods each day; explore Canada's food guide (2019) for recommendations. 
Connect with a local farmer for fresh food in season or refer to the Island Food Map below prepared by the PEI Food Exchange.
This spring, think about growing your own food. The PEI Food Exchange also has a list of community gardens on PEI if you do not have your own space.
5. Drink alcohol responsibly
Drinking alcohol is a personal choice. If you are aged 25 to 65 and choose to drink, Canada's low-risk drinking guidelines will help you figure out your limits.