Measure of PEI progress in statistical review
Did you buy a new car or eat a lot of lobster last year? You're not alone.
In 2015 Islanders bought more cars and lobster than ever before.
Our population and economy continue to grow and we're shipping more of our world-class products around the globe than we ever have before.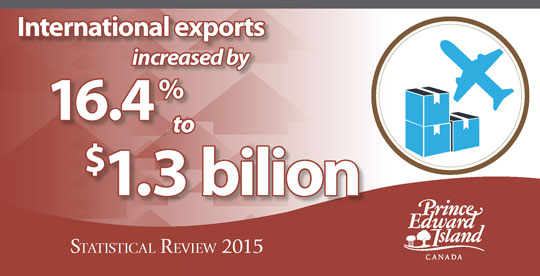 Each year, a snapshot of Prince Edward Island's economy and people is captured in a Statistical Review.
It's a measure of progress in things like farming, fishing and exports, and gives a glimpse of who we are and where we are going. It's one of the most important documents the PEI government produces because it helps determine where, when, and how to deliver the critical programs and services that Islanders depend on. 
In the 42nd edition of 2015, data from all government departments, the private sector and Statistics Canada was gathered and put into more than 100 tables of data unique to PEI.
The review has some big picture details captured from ten thousand feet, but also contains quirky minutiae. For example, did you know that exactly 175 babies have been born in Prince County each year, since 2010?
The statistical review shows that the world is buying the Island.
Prince Edward Island international exports led the country with an increase of 16.4 per cent last year.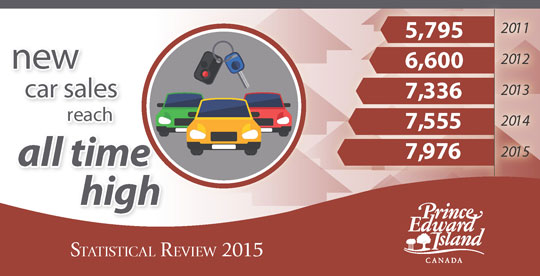 Islanders bought more cars than ever before in 2015 and more expensive ones too: 7,976 vehicles worth $243 million. We also landed more lobster off our shores than ever before. In 2015, fishers caught 32.2 million pounds of the tasty crustaceans with a value of more than $150 million.
Our economy continues to grow – thanks to cars, lobster and a lot more – with a 1.5 per cent growth in the economy, and retail sales increasing by 2.3 per cent.
Immigration continues to grow with 1,336 immigrants making their home on PEI in 2014/15.
When our population was counted on Canada Day 2015 there were 146,447 people living on the Island, which means more people than ever now call PEI home.
Government's target of growing our Island's population to 150,000 is clearly on track.
By the way, the number of deaths - 1,338 last year - almost matched the number of births, 1,428 in 2015.

Additional Links: