New private dog training school opens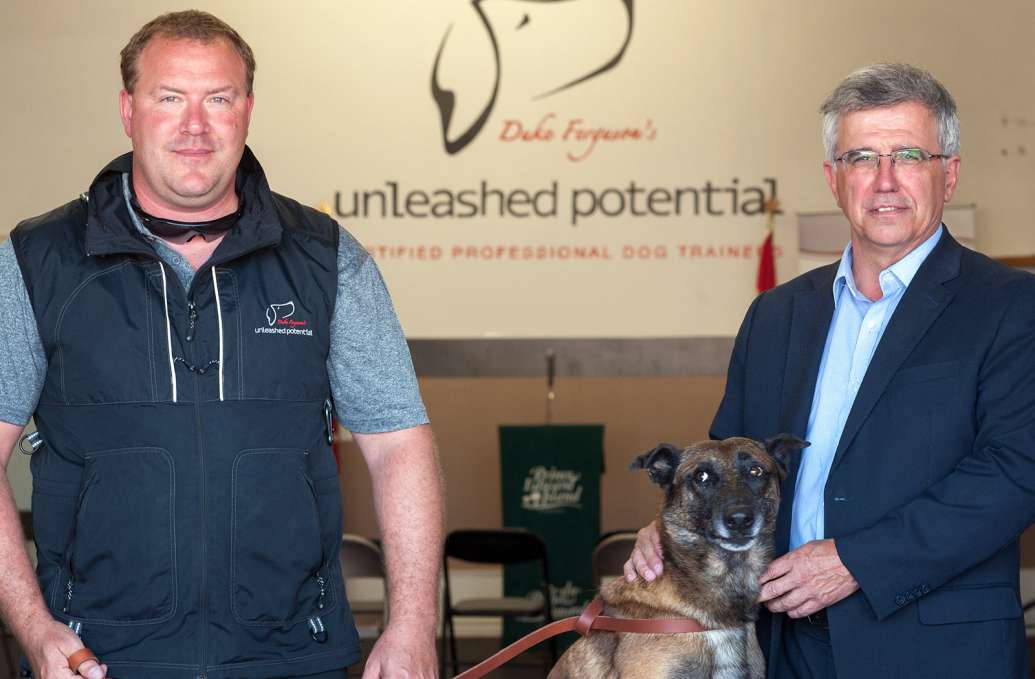 A new certified professional dog training school, Unleashed Potential K9 Academy, has officially opened its doors. Current and future clients were welcome to check out all that the academy has to offer, including training in puppy management, off leash training, obedience training, aggression training and Duke Ferguson's Dog Trainer School and Shadow Program.
"As a province, we are so pleased to welcome Unleashed Potential K9 Academy into our growing offering of private training schools here in Prince Edward Island," said Minister Richard Brown, Workforce and Advanced Learning. "Schools like Unleashed Potential offer very specialized training methods for dog trainers, with individuals travelling from around the world to attend Duke's Dog Trainer School. Dog trainers are taking part in intensive training workshops through the Academy to learn higher levels of canine behaviour and training to increase their skill-sets in the field."
The Department of Economic Development and Tourism, through Innovation PEI, is supporting Unleashed Potential K9 Academy with marketing assistance, through a $16,000 contribution.
"The Government of Prince Edward Island understands the importance of supporting small and medium sized business and their impact on the provincial economy," said Minister Heath MacDonald, Economic Development and Tourism. "That's why we are committed to ensuring these businesses have access to resources that will allow them to expand, find new marketplaces, and create new jobs. I look forward to seeing Unleashed Potential succeed as the company embarks on a new chapter with its business."
Unleashed Potential is owned and operated by world-renowned CEO and master trainer Duke Ferguson of Brudenell, PEI. Ferguson has a true passion for canines and has been training dogs since his early childhood. His education in the area ranges from dog training techniques, behaviour modification, and all aspects of animal behaviour (canine) from institutes around the world, including but not limited to Canada, the United States, Belgium, France, Japan, and the United Kingdom. From his early roots, Ferguson has grown his business rapidly from working out of the back of his truck, to becoming one of the most respected and well known dog trainers worldwide.
"I've spent my entire life with dogs and training in many tasks for various jobs, such as policing and wildlife law enforcement with a K-9 unit," said Ferguson. "I can tell you learning is endless. I am blessed to have acquired my knowledge and skills over the years, and I am now able to teach others worldwide."
Unleashed Potential K9 Academy has six locations in Prince Edward Island; Nova Scotia; California; New Jersey; and three more opening this summer in Canada and the United States. For more information on Unleashed Potential's training services and dog trainer school, visit www.unleashedpotential.ca
Media Contact:
Sheila Kerry
(902) 620-3688
slkerry@gov.pe.ca