Students dig in during National Tree Week
Students from L. M. Montgomery Elementary planted 200 trees at Wright's Creek and Andrews Pond during National Tree Week to increase urban tree cover, provide clean air and support the environment. 
Wright's Creek runs under St. Peters Road, just outside the Charlottetown bypass. The series of streams and ponds was once known for its good fishing, but silt has filled in the pond over the years.  The natural areas along the trail already include spring-fed fresh-water streams, ponds with ducks and fishing, and an extensive salt marsh leading to the Hillsborough River.   
 
"This pond has been here for more than 200 years," said Bruce Smith, Tree Canada Community Advisor for Prince Edward Island. "The Watershed Committee has been building viewing platforms and trails. They want the public to be able to come here and enjoy nature. I encourage all the students to come back here years from now and see how their trees have grown."
 
Smith says urban trees produce oxygen, absorb carbon dioxide, provide shade in the summer and block wind in the winter. 
Students planted  a variety of trees to meet the different soil conditions including Hemlock, White Spruce, Red Maple, Yellow Birch, Red Oak, White Pine, White Birch, Dogwood  and Larch. John Andrew, chair of the Watershed Committee whose family has owned the pond for many generations, was also on hand to help students with the planting.
 
The trees were provided by a grant from Home Hardware to support the work of the Wright's Creek Watershed Environmental Committee and City of Charlottetown to restore the area and establish a walking trail.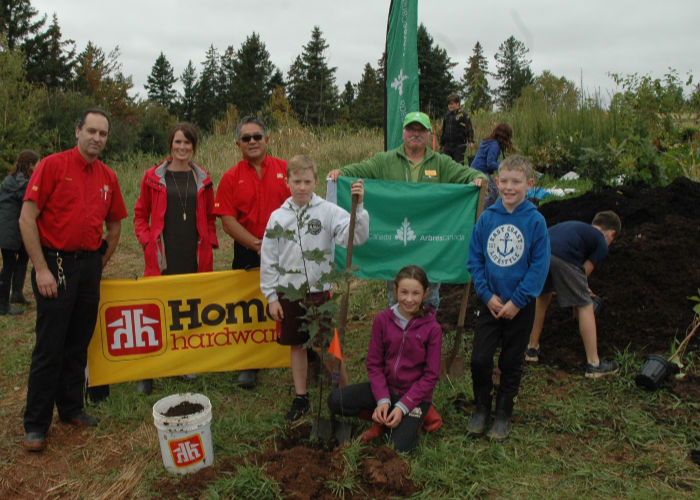 Home Hardware has supported plantings for 27 years. They have provided more than one million dollars and has resulted in the planting of nearly 27,000 trees across Canada. Trees were also provided by PEI's J. Frank Gaudet Tree Nursery and Arbor Nursery. 
There's an old proverb that says 'The best time to plant a tree was 20 years ago. The second best time is now.'

 - Brad Trivers, Minister of Environment, Water and Climate Change.
"Tree planting is a time honoured tradition on Prince Edward Island. It beautifies properties and communities; stabilizes soils and creates wind buffers; improves wildlife habitats; restores forest health; and helps fight climate change," Minister Trivers added.
Tree Canada is a non-profit organization dedicated to improving the lives of Canadians by planting and nurturing trees. Through their programs, research and educational efforts, they have helped restore tree cover in areas hit by natural disasters, guided communities in managing their urban forests, helped green 660 schoolyards and organized annual urban forest conferences.
National Tree Week reminds all Canadians to appreciate the great benefits that trees provide – clean air, wildlife habitat, reducing energy demand and connecting with nature. Falling on the Wednesday of National Forest Week, this year National Tree Day fell on September 25.