Prince Edward Island generates around 2,000 kilotonnes of greenhouse gases (GHGs) each year. This is less than 1 per cent of Canada's greenhouse gas emissions. On average, each Islander generates about 12 tonnes GHGs each year, which is lower than the average Canadian.  
What are our sources of greenhouse gas emissions?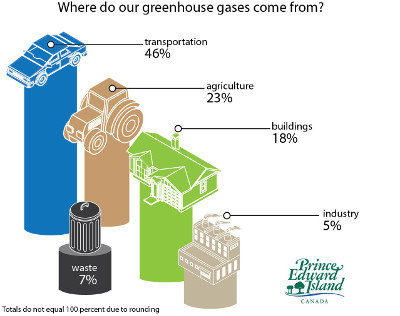 According to Environment Canada, our GHG emissions come from three main economic sectors: 
Transportation (46%): This is the biggest source of greenhouse gas emissions in Prince Edward Island.  Islanders continue to use more gasoline and diesel each year. Most of our transportation emissions come from cars and trucks. Off-road vehicles, like tractors, boats, ATVs, and snowmobiles, also contribute.
Agriculture (23%):  Livestock, manure and fertilizer use generate GHG emissions. Livestock produce methane gas and so does their manure. Nitrous oxides are given off when we use synthetic or natural fertilizers, and add manure to croplands and pastures.
Buildings (18%): Island homes, businesses, and industries burn fossil fuels like light fuel oil (furnace oil), heavy fuel oil (bunker C), diesel, and propane to produce heat or electricity. Heavy fuel oil generates the most GHGs (3 kg for every litre of oil burned), while propane generates the least (1.5 kg for every litre of propane burned).
What are PEI's emissions reduction targets?
Prince Edward Island has not established provincial greenhouse gas emission reduction targets.  However, PEI is supportive of the regional targets established by the New England Governor's and Eastern Canadian Premiers. These include reducing regional emissions:
to 1990 levels by 2010 (target met),
10% below 1990 levels by 2020, and
35-45% below 1990 levels by 2030.
What has PEI done so far to reduce emissions?
Prince Edward Island is working to reduce GHG emissions. In 2008, we released Prince Edward Island and Climate Change: A Strategy for Reducing the Impacts of Global Warming. This strategy describes our ongoing efforts to lower greenhouse gas emissions and prepare for climate change. 
Who can I contact for more information?
Erin Taylor (Manager, Climate Change and Agriculture Outreach)
Jones Building, 4th Floor
11 Kent Street
Charlottetown, PEI  C1A 7N8
Telephone: (902) 368-6111
Fax: (902) 368-5830
Email: eotaylor@gov.pe.ca