Island Christmas Trees and Wreaths
Real Christmas trees are a natural, safe and 100 per cent biodegradable part of many Island Christmas traditions. PEI Christmas trees and wreaths are renowned for their quality, colour and fragrance.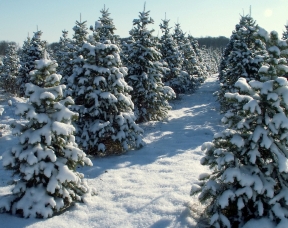 Producers grow evergreen Christmas trees and make wreaths for local retail outlets and for export to markets in Canada and New England. Some growers also specialize in U-cut operations and they encourage Islanders to come out for a visit and select the perfect locally grown Christmas tree right on the stump.
2022 PEI Christmas Tree and Wreath Producer List (830MB)
Locator Map
The province does not provide direct support to Christmas tree growing operations. However, the department does sell balsam fir and other seedlings to growers and provides services such as insect and disease analysis and technical advice to support healthy, productive forests.
Questions about seedling species and availability?
Contact
J. Frank Gaudet Tree Nursery
Phone: 902-368-4711