Reasons to Buy Local
Learn about the big impact that supporting local, independent producers can make to our PEI economy.
PEI Christmas Trees and Wreaths
Help the environment and support local growers by buying a real Christmas tree. Find a list of local producers.
Who Grows Your Christmas Dinner?
Consider local food sources when shopping for your holiday parties and feasts. Find a list of what's in season from the land and sea as well as local wines, spirits and beer.
PEI Holiday Recipes
This collection of PEI recipes from PEI Turkey Meatballs with Spiced Apple Chutney to Cranberry Pudding with toffee sauce is sure to tempt your taste buds.
Travelling over the holidays?
Winter driving can be unpredictable so it's always best to be prepared for whatever Mother Nature may bring.
Check ahead before you head out. Get updated road condition information at 511.gov.pe.ca
Choose decorations that are flame resistant or flame retardant.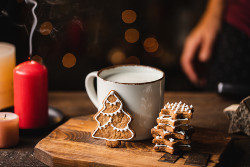 Keep lit candles away from decorations and other things that can burn (flameless candles are a great alternative).
Blow out lit candles when you leave the room or go to bed.
Use outdoor lights outside, and indoor lights inside. They are not interchangeable.
Choose a tree with fresh, green needles that do not fall off when touched.
Before placing the tree in the stand, cut 2" from the base of the trunk.
Make sure the tree is at least three feet away from any heat source, like fireplaces, radiators, candles, heat vents or lights.
Make sure the tree is not blocking an exit.
Add water to the tree stand. Be sure to add water daily.
Energy Saving Tip - Trim the Tree with LED

Make your holiday displays smart and festive with LED decorative lights – they use 90% less energy and last up to 10 times longer.