Buying Tobacco and Electronic Smoking Devices (Vaping Products)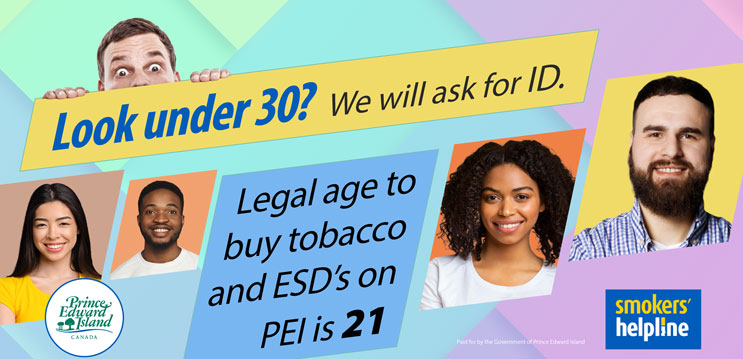 The legal age to purchase tobacco and vaping products/electronic smoking devices is 21 in Prince Edward Island. Retailers will be requesting to see ID as proof of age for any customer who appears to be under the age of 30.

Tobacco Enforcement Officers are responsible for the enforcement of the Tobacco and Electronic Smoking Device Sales and Access Act in PEI. Inspections are conducted by Officers on all retailers that sell tobacco and electronic smoking devices to make sure they are compliant with the legislation. Checks are conducted throughout the year to ensure retailers are checking the ID of customers under the age of 21.
Do you need help quitting smoking?
The PEI Smoking Cessation Program helps PEI residents who wish to stop smoking or using other tobacco products by: covering 100% of the cost of nicotine replacement therapy (NRT) products (i.e., nicotine gum, lozenges, patches, and inhaler) and specific prescription smoking cessation medication.
Smoke Free Places
It is against the law to smoke in a public place or workplace in PEI. Also, smoking is not permitted in any vehicle while a child under age 19 years is present, even if a window, door, sunroof or roof is open and allows fresh air into the vehicle. For more information, refer directly to the Smoke-Free Places Act and Regulations.
Frequently Asked Questions
How can I make a Tobacco and/or Electronic Smoking Device (Vaping) Complaint?
Contact a Tobacco Enforcement Officer with any tobacco, vaping or Smoke Free Places Act complaint. You can email kdcampbell@ihis.org or call 902-368-4286.
Report the sale, distribution, purchase, or possession of illegal tobacco to Crimestoppers at 1-800-222-8477 or your local RCMP/municipal police force.

Any retailer or person found to be in violation of the Tobacco and Electronic Smoking Device Sales and Access Act or the Regulations is guilty of an offence and liable on summary conviction:
  For a first offence, to a fine not exceeding $2000; including: 
Sale or supply to person under 21
Purchase of a tobacco or electronic smoking device product for a person under 21
Sale of tobacco/electronic smoking device with flavouring agent
Sale of electronic smoking device outside of a tobacconist shop 
Advertising or promotion of tobacco or electronic smoking device
False, deceptive or misleading advertising of tobacco/electronic smoking devices 
A second and subsequent offence, will lead to a fine not exceeding $5000.
A retailer's license may also be suspended or cancelled pursuant to Section 8 of the Tobacco Tax Act if found guilty of an offence related to tobacco in any Act or Regulations of the Legislative Assembly of PEI.
Where in PEI can I purchase Electronic Smoking Devices?
Only tobacconist shops can sell electronic smoking devices in PEI. A tobacconist shop is an age-restricted location whose primary business is the retail sale of tobacco, electronic smoking devices, or a combination of both. Primary business means at least 50% of the retailer's product display space is devoted to the sale of tobacco, electronic smoking devices, or a combination of both.
Are there restrictions on the sale of flavoured electronic smoking devices (vape products, including e-liquids)? 
The only electronic smoking device flavours allowed to be sold on PEI are tobacco and unflavoured. Any agent added to tobacco or an electronic smoking device to produce an aroma or taste other than the aroma or taste of tobacco, including the aroma or taste of candy, chocolate, fruit, a spice, an herb, an alcoholic beverage, vanilla or menthol is considered to be a prescribed flavouring agent and prohibited in PEI.  
Is there a tobacco education program for retailers?
The Province of PEI provides a tobacco education program to all tobacco retailers and tobacconist shops called the Toolkit for Responsible Tobacco and Electronic Smoking Device Retailers. It is highly recommended that all retailers and their employees complete a tobacco training program and review the materials on an annual basis. 
Click here for more information for retailers.