Getting the feel for an electric vehicle
Dave Stewart is impressed with the electric vehicle he drove as part of the EV driving experience in Montague this summer.
As he exits the Kia Soul he remarks that it was in fact, "excellent!"
"I was surprised by the amount of torque it had. Smooth ride, quiet. "
Would he buy one?
"Sure, if the price came down." But he added that with the provincial and federal government incentives, it is becoming a more feasible purchase. 
The Government of PEI provides an incentive of $5,750 on the purchase of new electric vehicle and a $3,250 rebate on a plug-in hybrid EV.  
The provincial Net Zero Office has partnered with Safe Drivers PEI and tour dates are available most Fridays across the province until August 25. 
Dave said he just happened to be driving by and saw the EVs available for test drive. 
"I was curious," he laughed.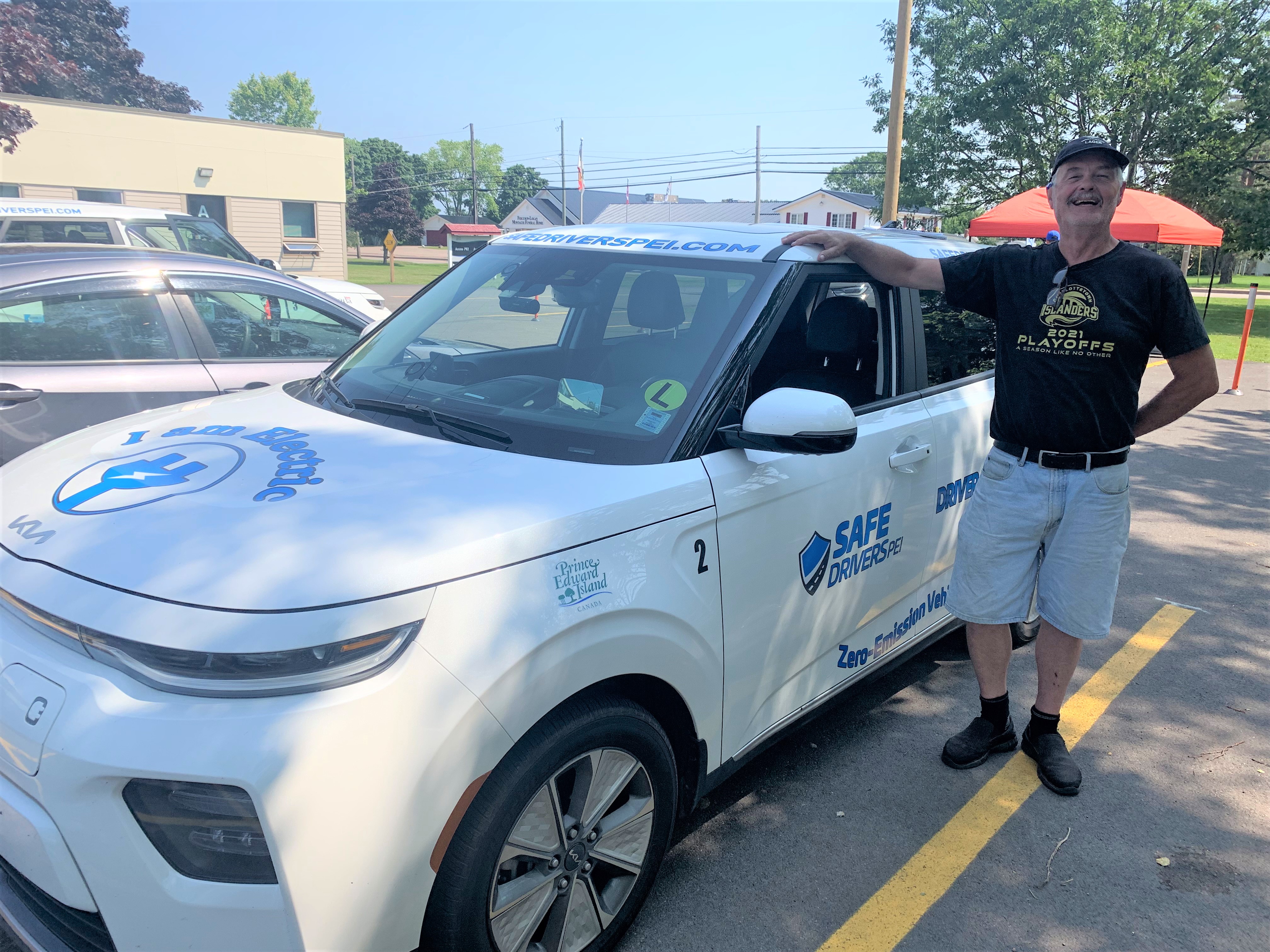 Dave isn't alone.
Eric Brookins of Save Drivers PEI said they are averaging about seven drivers a session, which on this day was from 9-11:30 a.m.
"A lot of people are very interested….and many don't find any difference when driving an EV or their own gas-powered vehicle."
Eric said many young people are now learning to drive in an EV and that will be incentive for them to buy one when they get the chance. "They really don't mind going from an EV to their gas vehicle. It is not a struggle for them." 
Dave said he would buy an EV, "but I might start with a plug-in hybrid, just to have the comfort of knowing that if I was low on battery, I could get by on the gas."
Eric said he understands that thought process. "A lot of people like the comfort of having that gas back-up."
But he says new technology is increasing the power and longevity of batteries every year. 
"It's coming. With the availability of charging stations and as more people buy EVs, it will become a viable option for people," he said. 
Anyone signing up for an EV driving training session can choose to enter a draw to win an e-bike (valued at approximately $1,500).
Register for your driving training session in advance at Electric Vehicles or stop in to chat with staff and get answers to your questions on electric vehicles.
You can also visit NetZero to learn more about provincial rebates and frequently asked questions about electric vehicles.
EV Experience Tour Dates 
July 28 – 11 a.m.– 3 p.m.- Visitor Information Centre, 33460 Western Rd., Ellerslie
August 4 – 11 a.m. – 3 p.m. - Canadian Center for Climate Change and Adaptation St. Peter's Bay
August 12 – 9 a.m. – 12 p.m. – Access PEI on Riverside Drive in Charlottetown
August 25 – 11 a.m. – 3 p.m. – Access PEI in Summerside