Jordan Brown is new education minister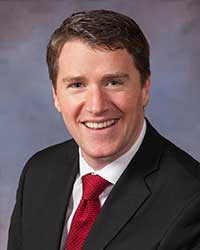 Jordan Brown, MLA for Charlottetown-Brighton, was sworn in as minister of Education, Early Learning and Culture during a ceremony at Fanningbank this afternoon (October 23).
Minister Brown takes leadership of the portfolio at a time when significant improvements and investments have been made in education, and when Island students are performing at or above Canadian standards in key areas such as reading, math, and science.
"The population of our province is growing and the economy of Prince Edward Island is thriving; a high-achieving education system is essential for our entire province to continue to grow and succeed," said Premier Wade MacLauchlan. "We have a strong, energetic and experienced team around the caucus and cabinet tables and welcome Minister Brown in his newest role as we work with all Islanders to provide opportunities for them to succeed, now and in the future."
Minister Brown will work closely with his cabinet and caucus colleagues to fulfill government's priorities of People, Prosperity, and Engagement.
Cabinet:
Honourable H. Wade MacLauchlan, premier, president of the Executive Council, minister of Justice and Public Safety, attorney general, minister responsible for Intergovernmental Affairs, minister responsible for Aboriginal Affairs, and minister responsible for Acadian and Francophone Affairs
Honourable J. Alan McIsaac, minister of Agriculture and Fisheries
Honourable Allen F. Roach, minister of Finance
Honourable Robert L. Henderson, minister of Health and Wellness
Honourable Paula J. Biggar, minister of Transportation, Infrastructure and Energy
Honourable Robert J. Mitchell, minister of Communities, Land and Environment
Honourable J. Heath MacDonald, minister of Economic Development and Tourism
Honourable Tina M. Mundy, minister of Family and Human Services
Honourable Sonny (Stanley) Gallant, minister of Workforce and Advanced Learning
Honourable Pat W. Murphy, minister of Rural and Regional Development
Honourable Jordan K.M. Brown, minister of Education, Early Learning and Culture
Media contact:
Mary Moszynski
Backgrounder:
Jordan K.M. Brown, government whip, was elected to the Prince Edward Island Legislature in the May 4, 2015 provincial general election, as the representative for District 13, Charlottetown - Brighton, the same district formerly held by his grandfather, the late Addie MacDonald, who was also government whip.
Jordan was born and raised in Prince Edward Island. He graduated from the late French Immersion program through Birchwood School, before graduating from the University of Prince Edward Island in 2002 with a Bachelor of Business Administration, and a minor in economics. He then attended the University of New Brunswick to pursue his legal education. Jordan was admitted to the bar in Prince Edward Island in 2005, and began his practice with Cox & Palmer in Charlottetown.
As an MLA, Jordan is a member of the Standing Committee on Public Accounts, as well as the Standing committee on Education and Economic Development.
Jordan is very active within the Prince Edward Island community as a member of the Hillsborough Rotary Club. Jordan is a former chair of the Rotary Car Dinner, and a former member of the Board of Directors. Jordan is also the director of Abe Zakem House Inc. Outside of his duties as MLA for Charlottetown - Brighton, and community involvement, Jordan enjoys spending time with family, downhill skiing, mountain biking, and golf.
Jordan lives in Charlottetown with his wife Amy Boswall, a teacher at Sherwood Elementary, and his two children, Finlay, 4, and Aulay, 2.