Sexually Transmitted and Bloodborne Infection Rates in PEI
The Chief Public Health Office is mandated by the Public Health Act and the Notifiable Diseases and Conditions and Communicable Diseases Regulations to control certain communicable diseases in PEI.  The Communicable Disease Program contributes to this mandate through policy development, disease surveillance, case follow-up, contact tracing, immunization, education and reporting on STBBI rates.
Chlamydia
Prince Edward Island has one of the lowest chlamydia rates in the country. In 2016, the rate of chlamydia infections in PEI was 42% lower than the national average of 334.9 per 100,000 population in Canada. However, similar to the rest of Canada, chlamydia rates have been on the rise, particularly for men and women ages 20-34 years old. Similar to the national trend, the diagnosis rate in PEI females is higher than in males. Chlamydia is often under-diagnosed because the majority of infected individuals are asymptomatic, and males have less frequent health-maintenance visits.
Canadian Guidelines on the management and treatment of Chlamydial Infections

Gonorrhea
In Canada, gonorrhea is the second most commonly reported STI after chlamydia. Of particular concern is the emergence of antibiotic resistant gonorrhea in Canada, which could be contributing to the increased national rate of infections. Between 2010 and 2015, the national diagnosis rate for gonorrhea increased by 65.4% from 35.2 to 55.4 cases per 100,000 population. Despite this, PEI rates have remained stable and continue to be among the lowest in the country, averaging 4.8 cases per 100,000 population from 2008 to 2017. 
Hepatitis C
Prior to 2015, the rate of hepatitis C virus (HCV) infections in PEI was higher than the national average. In 2014, PEI embarked upon a progressive approach for eliminating HCV that includes encouraging testing for individuals at high risk and providing new treatments through the Hepatitis C Drug Program. In 2015, the HCV rate in PEI dropped 12% below the national average and continued to decline in 2017.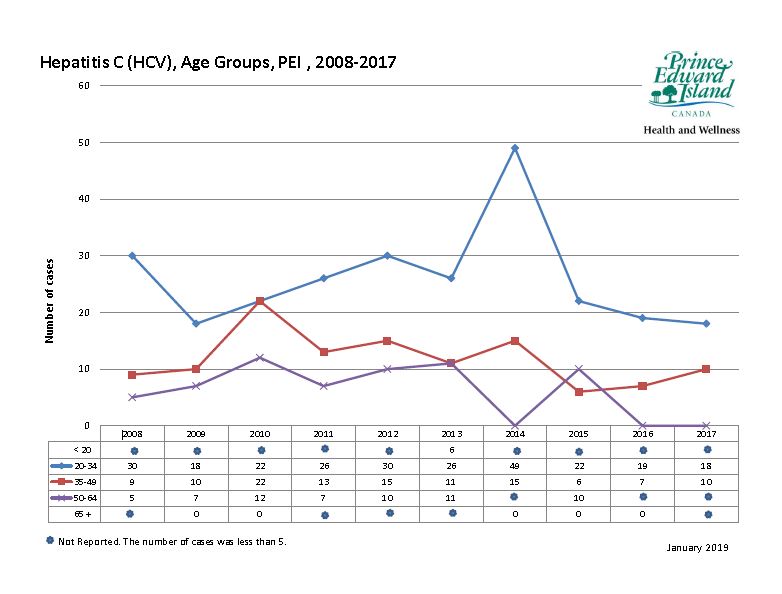 Hepatitis B
Hepatitis B virus (HBV) infections are classified as acute or chronic infections. National rates are influenced by variations in which each province distinguishes HBV cases by infection status. In Canada, the incidence of acute hepatitis B virus (HBV) infections is declining; acute HBV rates decreased from 1.0 to 0.5 per 100,000 between 2005 and 2013.  Many provinces and territories implemented a universal HBV immunization strategy in the early 1990s aimed at infants and children, and this strategy is attributed with reducing acute HBV infections in this population.  Additional decreases in rates may be achieved through improving immunization strategies for immigrants, refugees, and adopted children from countries without mass HBV vaccination programs.
A Brief Report on Hepatitis B in Canada
Report on Hepatitis B and C in Canada: 2013
HIV
The rate of new HIV diagnoses in Prince Edward Island has remained stable since 2008 (average 1.0 per 100,000). The PEI rate of 2.0 cases per 100,000 in 2016 was 31% lower than the national incidence rate of 6.4 cases per 100,000 population.
Syphilis (Infectious)
The rate of infectious syphilis in Prince Edward Island has remained relatively stable over the past 10 years. In 2016, the syphilis rate in PEI was 18% lower than the national average (2.7 per 100,000 inhabitants in PEI versus 14.9 per 100,000 nationally). Outbreaks of infectious syphilis have occurred in different parts of the country, often in populations of men who have sex with men (MSM). However, many MSM also engage in sexual activity with women, so both sexes are at risk. In PEI, there have been cases of infectious syphilis in both men and women.
What are we doing?
STI and STBBI testing at physician and nurse practitioner offices and at Health PEI Sexual Health Clinic, which also has monthly walk-in clinics
UPEI Health & Wellness Centre is open for students 5 days / week and offers STI testing
Development of STI education material and collaborating with community groups for increasing public awareness, specifically for populations at higher risk for STBBIs
Medication for those diagnosed with an STBBI is covered under the STI Drug program
All people who are infected with a STBBI are provided confidential follow up with a Public Health Nurse. This follow up includes education and assessment for immunizations that the person may require.