Transgender Health Services
Transgender health services may be accessed through your family physician, nurse practitioner or community mental health provider. Speak with your health care provider or the patient navigator for help with your transition. The patient navigator can be reached by calling 1-844-882-3141 or emailing patientnavigator@gov.pe.ca 
What does it mean to be transgender?
A transgender person is someone who may act, feel or view their gender identity differently from the gender they were born with. They may identify as male or female, or may feel that neither label fits them. In order to express their chosen gender, transgender people may transition or change their appearance from the gender they were given at birth. 
What does it mean to transition?
Transitioning occurs when a person changes from one gender to a different gender. Transitioning may include:
Medical (hormones, surgeries)
Social (coming out, expressing your gender outwardly)
Legal (changing your name and gender on identification)
What is hormone therapy?
Hormone therapy is a medical treatment that will suppress and/or add to a body's natural masculine or feminine hormones. Hormone therapy usually begins after you have been assessed for both mental and physical health and readiness by a qualified health professional.  
PEI Pharmacare helps Islanders with the cost of eligible prescription medications. You may be eligible to receive either partial or full coverage through one of the drug cost assistance programs.
To discuss options for accessing hormone therapy, you, your family physician or nurse practitioner may contact the patient navigator for assistance. 
What is gender-confirming surgery?
Gender-confirming surgery which is also referred to as gender affirming or sex reassignment surgery, includes:
the removal of internal and external organs associated with the current gender;
the reconstruction of external characteristics of the desired gender; and
procedures to enhance the appearance to more closely match the desired gender.  
What is the process if I want gender-confirming surgery?
Health PEI has a formal policy and process to better support your interest and request for gender-confirming surgery. 
The policy provides guidance and clear criteria for Health PEI to assess your request for gender-confirming surgery in context to the eligibility criteria as established by the World Professional Association for Transgender Health (WPATH).
If you are considering gender-confirming surgery, as a first step, you should discuss your wishes with your family physician, nurse practitioner or community mental health provider.
All gender-confirming surgeries will be referred out-of-province to the Centre Métropolitain de Chirurgie (CRC) also known as GRS Montreal. Your family physician or nurse practitioner must first request prior approval from Health PEI in order for your gender-confirming surgery to be covered by PEI Medicare.  
You will be required to undergo an assessment(s) and attain referral letters in accordance with the WPATH criteria before your request can be reviewed by PEI Medicare. It can take time for these assessments to take place and referral letters to be attained. Please contact the Patient Navigator for any assistance required to connect with health care professionals that can assist with assessments and/or referral letters.
If your request and referral for gender-confirming surgery is approved by PEI Medicare, your family physician or nurse practitioner will forward a copy of your approval forms and necessary documentation to CRC in Montreal. Staff at CRC will review the documentation, and may contact you for any additional information required. They will then work with you on an appropriate surgery date.
Below illustrates the process for receiving prior approval for gender-confirming surgery: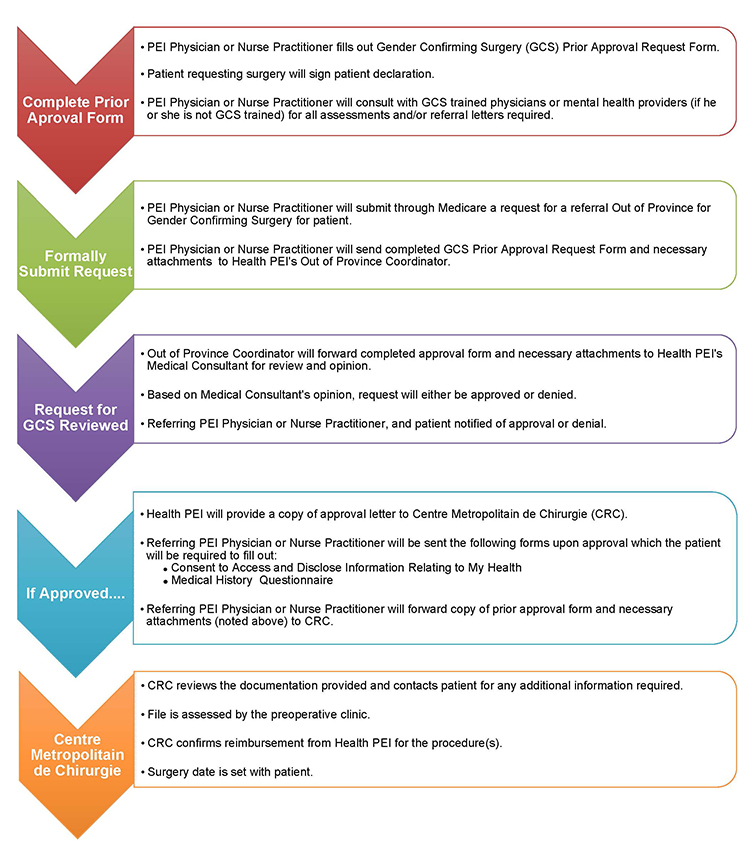 What if I want to have my surgery at a location other than the Centre Métropolitain de Chirurgie (CRC)?
Health PEI is working exclusively with the CRC for all gender-confirming surgeries.
What procedures are covered?
Prince Edward Island covers the following procedures: 
Female to Male    
clitoral release
erectile/testicular implant
hysterectomy  
mastectomy with chest masculinization
metoidioplasty
oophorectomy
phalloplasty
scrotoplasty
vaginectomy
Male to Female
clitoroplasty
labiaplasty
orchiectomy (or also referred to as orchidectomy)
penectomy
vaginoplasty
What procedures are performed in PEI?
Hysterectomies, mastectomies (without chest masculinization), oophorectomies, orchiectomies and penectomies are performed in PEI. All other surgeries are performed out-of-province.
Your physician will need to request approval from PEI Medicare for any surgery required 
out-of-province
. In general, travel and accommodation costs are 
not
 covered. 
Are there gender-confirming surgery trained physicians, nurse practitioners or mental health professionals in PEI?
There are physicians who have gender-confirming surgery training in PEI. Health PEI realizes assessments are not easily accessible in PEI, and that trans patients are facing barriers to receiving this service within the province. Health PEI is working to bring an experienced professional to the province to assist with training staff in the WPATH standards of care. More information will be shared about this initiative as details are confirmed.
In the meantime, if you require help in identifying a gender-confirming surgery trained physician, nurse practitioner or mental health professional, please contact the Patient Navigator. The Patient Navigator can be reached by calling 1-844-882-3141 or emailing patientnavigator@gov.pe.ca 
What if I don't have a family doctor?
If you do not have a family doctor, call 1-855-563-2101 (toll-free), or complete the Patient Registry Application Form online to register. 
How can I change my name and gender on my PEI Health Card?
You must first submit an application to Vital Statistics for the legal change of your name and gender. 
To legally change your name, you must be 18 years of age or older and reside in PEI for at least three months. If you are the legal guardian of a minor under the age of 18 who has been living in the province for at least three months, you can apply to legally change their name on their behalf. Learn more about legally changing your name and the applicable fees.
As of June 2016, the Vital Statistics Act [PDF | 220 KB] was amended to make it easier for transgender people to change their gender on government issued identification. You can apply to change your gender on your birth certificate by submitting:
a written declaration stating that you assume, identify with, and intend to maintain the gender identity that corresponds with the requested amendment; and
a written statement from a medical practitioner who is authorized to practice medicine in the province, confirming that the sex recorded on your registration of birth does not correspond with the your gender identity.
If you were born in PEI, contact Vital Statistics at 1-877-320-1253 or email vsmontague@gov.pe.ca  If you were not born in PEI, contact the government agency responsible for issuing birth certificates where you were born.
Once your name and gender has been legally changed, you contact the PEI Medicare Office at 1-800-321-5492 to request a name and gender change on your PEI Health Card and health record.  You may be required to provide your new birth certificate.
What are my rights and responsibilities as a patient?
Everyone has the right to receive the best and safest health care possible, including the right to express yourself in relation to your care. You are responsible to be an involved patient – you are encouraged to ask questions, listen to the answers and talk about any concerns you may have. Learn more.